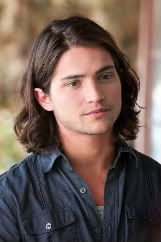 Newcomer Thomas McDonnell has been cast as a young Barnabas Collins in Tim Burton's re-invisioning of the 1960's television series, "Dark Shadows." McDonnell is receiving early praise for his work in Disney's teen film, "Prom" which opens April 29 and his resemblance to Depp is quite uncanny. But don't take my word for it, watch the clip below and see for yourself.
Also in talks to play Roger Collins is Michael Sheen ("The Damned United," "Frost/Nixon"). Already confirmed are Eva Green as the witch Angelique, Michelle Pfeiffer as matriarch Elizabeth Collins Stoddard, and Jackie Earle Haley will play grave robber Willie Loomis. Bella Heathecoat will portray the object of Barnabas Collin's affection, Victoria Winters. Helena Bonham Carter has yet to be confirmed by the trades for her role as Dr. Julia Hoffman, but seeing as though she said so herself in a recent interview, I'd say that pretty much seals it. And last but not certainly least is Johnny Depp. He'll be portraying the gothic romantic Barnabas Collins.
. . .
Follow Sherice Antoinette on Twitter at http://twitter.com/ShericesPieces.
And don't forget to "Like" It's Just Movies on Facebook at
http://www.facebook.com/itsjustmovies.