It is such a great time to be a "Smallville" fan. They are getting a movie, they are getting all kinds of exciting guest stars on their show and old favorites returning to the show. They are even getting art, in this case, an impressive poster for the upcoming movie.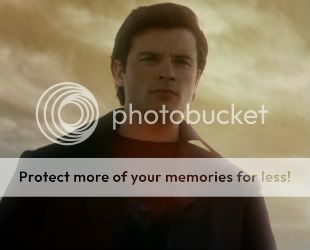 So, while the world anxiously waits for DC Enterprises (DC Comics and Warner Brothers combined) to assemble the "Justice League" movie they have been promising us for half a decade, or the another "Superman" movie, we joyfully welcome The CW's "Smallville: Absolute Justice" movie event. It will include members of the "Justice league" and "Justice Society of America" (the first superhero team in history) as well as multiple villains from the comic books.
This project came together when they realized that they had written two episodes that where so good, they needed to combine them into a two-hour long event. For now, this may be the closest we will get to a "Justice League" movie or a "Superman" movie, and make no mistake, Smallville's Clark Kent is not far from being Superman.
At this moment, on the show, he has already developed X-ray vision, heat vision, super-hearing, super-breath and he definitely leaps tall buildings in a single bound in every other episode. He is invulnerable to everything except kryptonite and magic. He is also currently wearing a dark, self-made outfit that is simple and comfortable, and exactly what someone with super-powers might wear if they wanted to stay out of the spotlight. Yet, they are already talking about adding more color to the suit by the end of the season.
Now, over the last few years, "Smallville" the TV show has suffered heavily from a lack of proper promotional advertising. The network it is on keeps the advertising for the show strictly to a minimum. You will hear the fans complaining about this on the forums and on Twitter constantly. In fact, that the show has survived without the network's support is a big sign of the loyal fan-base the show has. Back when the show was under the wing of "The WB," it wasn't unusual to spot posters and advertisement for the show in magazines and billboards. I even remember seeing some posters on a bus stop and a taxi cab while visiting New York.
This is why you can imagine how surprised I was to see that they have released a poster for "Absolute Justice." As a fan of the show, and an amateur Photoshop artist, I had already started to work on creating my own poster for the movie, this was due to my lack of faith that they would create one for us — but lo and behold, it is here. It is definitely a pleasant surprise, because the poster is absolutely beautiful and has a grandiose feel to it.
There is so much that can be said about it. For starters, it has various special characters in it. Let's begin with Clark Kent: "The Blur." He is in the center, and he is sporting his current "The Blur" outfit, with the House of El crest in his chest. To his left, we find one of the original "Justice League" founders: "The Green Arrow." He is played by Justin Hartley and he is a regular on the TV show and will playing a big part in the upcoming movie.
To "Green Arrow's" left, we have a new an important character that is being introduced in the movie but has never been seen on "Smallville." The winged character seen here is "Hawkman," and none other than "Stargate" alumni Michael Shanks will bringing his the winged hero's persona to live action for the first time. This is a special event for comic book fans.
To the right of Clark, we have two new characters to Smallville as well — "Stargirl" and "Dr. Fate" — and their roles will be played by Brittney Irvin and Brent Straits. I also love that they show the "Metropolis" skyline in the background, with, of course, the beautiful "Daily Planet" soaring high above all other structures.
Finally, I found it very interesting that all the characters seem to be surrounded by clouds, giving the poster that powerful and heavenly feel that these super-beings exude, and the rest of us could never reach. Glorious.
"Smallville: Absolute Justice," will debut Feb. 5 at 8 p.m. ET on the CW.
Also, I mentioned some old favorites were returning to the show.
Entertainment Weekly recently revealed that they are bringing Martha Kent back. Clark's mother, played by Annette O'Toole, he has been away for two seasons while serving as a senator.
EW also reported that they are also bringing back the great Michael McKean (who is married to O'Toole in real life), to reprise his role as Perry White.
Like I said, it's a great time for "Smallville" fans.
Follow Josue Sanchez on Twitter at http://twitter.com/Josue_can.