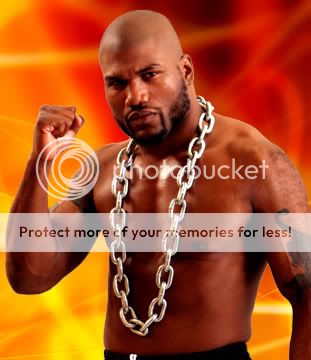 — by SEAN GERSKI —
Three-fourths of the cast for the upcoming "A-Team" movie has now been filled out with the addition of Quinton "Rampage" Jackson as Sgt. Bosco "B.A." Baracus.
The role, made famous by Mr. T on the show which ran from 1983 to 1987, was considered the most difficult role to cast.
Jackson joins Bradley Cooper, who will play Lt. Templeton "Faceman" Peck, and Liam Neeson, who will portray Col. John "Hannibal" Smith.
Yet to be cast is "Howling Mad" Murdock. Rumored contenders have included Chris Pine, Jim Carrey, Sharlto Copley and Woody Harrelson.
The movie — currently slated to hit theaters June 11, 2010 — is being directed by Joe Carnahan. According to IMDb, the movie's plot is as follows: A group of Iraq War veterans looks to clear their name with the U.S. military, who suspect the four men of committing a crime for which they were framed.
Jackson has been rumored to be a top contender for B.A. Baracus for quite some time. In fact, the former UFC champ appeared on "Jimmy Kimmel Live!" 15 months ago and discussed his interest in the role.
The relevant part starts at the 4:39 mark in the video below. You will get to hear Jackson's rendition of "I pity da fool" and see a picture the show's staff created to show how Jackson would look as B.A. Baracus (if B.A. looked exactly like he did on the TV show, which is doubtful).
Follow Sean Gerski on Twitter at http://twitter.com/DoubleDown44.