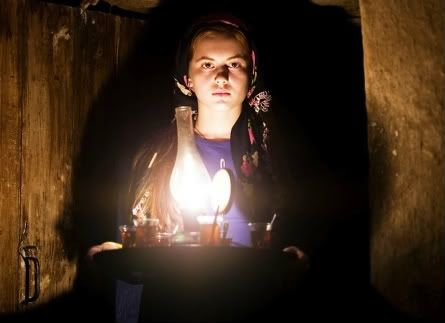 Winding slowly with burning flame headlights, three police cars necklace the dark hills of Anatolia, the great Turkish tongue of Asia, in the dark of a still night. Two bedraggled men lead the police ensemble to possible sites where they might have buried their victim, Yaşar. One potential site after the other proves impossible and everyone gets frustrated and hungry.
The group, comprised of the prosecutor, the doctor, the police commissar, drivers, and police lackeys with shovels, gets frustrated and hungry. Along with the two tired accused men who lead this posse, they drop in unexpectedly at a farmhouse where Muktar, the owner, orders the household to quickly rise and serve a remarkable multi-course dinner. But then the electricity goes out.
With a lamp-lit tray his daughter appears in a doorway and moves in to serve each man. Her charming face and flowing air angelically reflect back the flickering light and the men are hushed in stunned enchantment.
Kenan (Firat Tanis), the main suspect, had been drunk the night of the murder and his brother (I think) and accomplice had been half-asleep. This is why they are having so much trouble remembering the exact location where they buried Yaşar. But at this nocturnal dinner Kenan, heretofore quiet, loosens up and spills news that he was the actual father of the victim's son.
The group trudges out in the cold dark and returns to their vehicles to resume the body quest. Now Kenan, unburdened and nourished, finally leads the troupe to one last spot, just as dawn arrives.
At 157 minutes, this film is a little over two and a half hours long and there is not a lot going on besides traveling from site to site in the dark where you can't even see scenery. I understand that it is based on a true story one of the screenwriters had actually witnessed when he worked for a Turkish police force. However, admittedly, the interesting part of "Anatolia" doesn't shift to interesting until the last 30 minutes, when the men stop at the magical farmhouse dinner in the dark.
The men, worn out but pleasantly nourished, let secrets tangle out. A suicide and a divorce remind us that even the most respected have their stories of guilt and regret.
Towards the end the victim's wife and son appear. A problem with the body is discovered and blood shows up on the cheek of the handsome morgue doctor (Muhammet Uzuner), who reminds me of Omar Sharif's conflicted characterization of Dr. Zhivago.
The theatre was packed to capacity and no one left early. I'm guessing some there were seeing this winner of the Cannes Grand Prize of the Jury a second time. It was also Turkey's nominee for this year's Academy Award for the Best Foreign Language Film, though it did not make the last two cuts.
The acting is tremendous, the cinematography in the dark is skillful and the last half hour is what indie and foreign film-goers crave – a film that functions on a few different levels of meaning with the maximum requisite for intellectual mulling.
"Once Upon a Time in Anatolia" is currently playing worldwide
and was featured at the 35th Annual Portland International Film Festival.

Film Credits
Website: http://www.nbcfilm.com/anatolia/anatolia.php?mid=1
Directed by: Nuri Bilge Ceylan
Produced by: Zeynep Özbatur Atakan
Written by: Nuri Bilge Ceylan, Ercan Kesal and Ebru Ceylan
Starring: Muhammet Uzuner, Yılmaz Erdoğan, Taner Birsel, Firat Tanis
Cinematography: Gökhan Tiryaki
Editing: Bora Gökşingöl and Nuri Bilge Ceylan
Studio: Zeyno Film Distributed by Cinema Guild
Release date(s): May 21, 2011 (Cannes Film Festival), Sept. 23, 2011 (Turkey)
Running time: 157 minutes
Country: Turkey, Bosnia and Herzegovina
Language: Turkish with English subtitles
Awards: 2011 – Asia Pacific Screen Awards for Achievement in Cinematography (Gökhan Tiryaki), 2011 – Asia Pacific Screen Awards for Achievement in Directing (Nuri Bilge Ceylan), 2011 – Asia Pacific Screen Awards: Jury Grand Prize (Zeynep Özbatur)
2011 – Cannes Film Festival: Grand Prize of the Jury for Best Film
2011 – Karlovy Vary International Film Festival: Netpac Award (Nuri Bilge Ceylan)
Turkey's nomination for the Oscar for Best Foreign Language Film
. . .
Follow Bev Questad on Twitter at http://twitter.com/questad.
And don't forget to "Like" It's Just Movies on Facebook at
http://www.facebook.com/itsjustmovies.