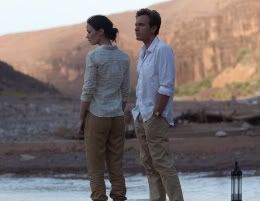 There may have been stranger concepts for a book turned into a movie than Paul Torday's 2006 novel "Salmon Fishing in the Yemen." — but none come to mind.
Directed by Lasse Hallström ("Dear John" and "What's Eating Gilbert Grape") and sporting an all star cast, "Salmon Fishing in the Yemen" takes a ridiculous premise — one that the characters even acknowledge — and tells a sweet story about human nature, the resistance to change, falling in love and second chances.
When public relations are at an all-time low, Patricia Maxwell (Kristin Scott Thomas), the British press secretary for the Prime Minister, is looking for any story to help lift the bureaucracy out of some bad times. She finds the story in ultra-rich Sheikh Muhammed (Amr Waked), who is trying to enlist the help of the British Fish and Gaming commission to help bring his love of Salmon fishing into the dry wastelands of the Yemen. Local fish and gaming worker Dr. Alfred Jones (Ewan McGregor), who loves and specializes in fish, is contacted by the offices of Harriet (Emily Blunt), who has been hired by the Sheikh to handle this task. Completely pessimistic, Alfred responds with jokes and a quickly dismisses the idea, until he learns that his job depends on his completion of this task.
Once he meets the Sheikh and learns of his passion and reason for wishing to do this, he starts trying to figure out a way to make it happen. With opposition on all sides, he begins to help analyze and figure out a solution to this perplexing problem. With the distance between Alfred and his wife Mary (Rachael Stirling), their love begins to fade as he grows fonder of Harriet, who is in a relationship with Capt. Robert Mayers (Tom Mison), who is deployed in the army. As success seems nearer than ever, opposing forces from the Yemen native radicals seek to destroy the Sheikh's effort to bring this Westerner sport into the Arab nation. With so much to be gained and lost depending on the achievement of this project, one thing is for sure, none of those involved will ever be the same when this is all through.
"Salmon Fishing in the Yemen" is a rare film that takes an abstract and obscure premise and delivers a funny and heartwarming story about the characters involved and how they change and grow. The movie is a poignant and in-depth look into the lives and hearts of our main characters. We get to see the love and passion of each and follow along as they attempt what seems impossible.
Alfred and Harriet have a dry British comedic connection at first which is highlighted with remarks and sarcasm, but the chemistry between them quickly grows as they become a more prominent part of each other's lives. The Sheikh was charming and charismatic the entire film and Kristin Scott Thomas was funny — even though she plays it pretty straight-laced — and the two were my other favorite characters in the film.
Overall, the film was dramatic, funny, moving and entertaining to watch as the story unfolds and we see the Sheikh's dream slowly turn into a reality. "Salmon Fishing in the Yemen" is a must-see for any fan of the book or dramatic comedies.
"Salmon Fishing in the Yemen" is rated PG-13 for mild violence, sexual content and brief language and is in theaters in limited release now.
. . .
"Like" It's Just Movies on Facebook at http://www.facebook.com/itsjustmovies.