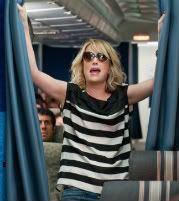 I've been pumped to see the Kristen Wiig-penned comedy "Bridesmaids" since I saw the first trailer, and this new batch of clips makes me even more certain the film should be worth my while.
Wiig plays Annie, a woman with a tight wallet and a terrible relationship whose best friend Lillian (Maya Rudolph) announces she's getting married. She asks Annie to be her maid of honor, but she soon finds helping give Lillian the perfect wedding is more than she bargained for.
Hijinks ensue as Annie clashes with Lillian's rag-tag group of bridesmaids, including stuck-up Helen (Rose Byrne), prim and proper Becca (Ellie Kemper), stressed-out mom Rita (Wendi McLendon-Covey) and zany Megan (Melissa McCarthy).
I've always loved buddy comedies like "The Hangover" and "Superbad" far more than traditional chick flicks, so I'm excited to see the ladies get a stab at raunch comedy territory. And I think Wiig has found a group of hilarious women that will truly be up to the task.
Based on the clips, it looks like real-life pals Wiig and Rudolph should have great chemistry as the maid of honor and bride-to-be. All of the ladies should have ample opportunity to show their comedic chops, but if anyone is going to break out from this cast a la Zach Galifianakis in "The Hangover," it's going to be McCarthy. All of the footage released of her so far has been consistently hilarious, and the Air Marshall clip is no exception.
"Bridesmaids" opens May 13. Check out seven clips from the film below.
What do you think? Are you excited to see a female-driven raunch comedy, or will "Bridesmaids" ultimately not live up to the hype? Sound off in the comments section.
. . .
Follow Alexa Milan on Twitter at http://twitter.com/alexamilan.
And don't forget to "Like" It's Just Movies on Facebook at
http://www.facebook.com/itsjustmovies.