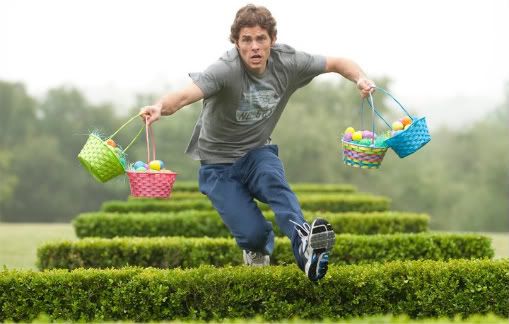 With Easter just around the corner, there was bound to be a new family film coming out to appease the many families looking for something to do over the holiday break. This year, it just so happens to be a film about Easter: "Hop," by director Tim Hill ("Alvin and the Chipmunks").
E.B. (Russell Brand) is a teenage rabbit who has dreams of becoming a drummer. On the eve of replacing his father (Hugh Laurie) as the next Easter Bunny, E.B. runs away to Hollywood where he meets Fred O'Hare (James Marsden) who takes him into his home. Both are trying to realize their potential while avoiding any real responsibility. All that changes when an evil Easter chick named Carlos (Hank Azaria) decides that the Easter Chicks should be in charge of Easter and E.B and Fred must travel to Easter Island to try and save the day.
All in all, the following clips are short, but they showcase a wide range of scenes from "Hop."
In the first clip, E.B. and Fred argue about the Easter Bunny.

In the next clip, "Difficult to Replace," we see Carlos trying to console the E.B.'s dad, who is distraught and blaming himself for his son running away. Carlos is less than helpful while hinting at a replacement.
In "Drums," Fred discovers E.B. in his parent's room, making a mess and playing "Rock Band." You can see the care-free attitude E.B. has towards rules and restrictions and easy going Fred has to be the strict one.
"I'm the Easter Bunny" takes us to an encounter between Fred and E.B. Fred is sick of E.B.'s mess and tries to get rid of him and then is told that he is really the Easter Bunny.
When it comes to "Cuddling" I wouldn't mind having Sam (Kaley Cuoco) give me some warm hugs and gush over my cuteness. I find the interaction and silent looks between Fred and E.B. to be quite funny in this clip.
Having "Interruptions" can be annoying at times, especially when you are trying to give a speech to make all the Easter chicks want to mutiny. Funny fact, Hank Azaria voices both the maniacal Carlos as well as the funny Phil that keeps interrupting him.
In the final clip, "Coup D'Etat," Carlos takes advantage of the situation and decides to take over Easter. There is some funny word play with "No. 2."
This is obviously a film for the families, so are you going to take your young ones to see it? Leave me a comment and let me know.
"Hop" springs into theaters April 1 and is rated PG for mild rude humor.
. . .
Follow Adam Poynter on Twitter at http://twitter.com/CCWGGuy.
And don't forget to "Like" It's Just Movies on Facebook at
http://www.facebook.com/itsjustmovies.