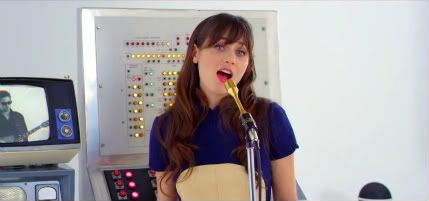 In a way, it's a shame musicals aren't in vogue because we are fortunate to have a wealth of actresses working today who are not only beautiful, but also can sing quite well.
The list is almost limitless, but the first three that spring to mind for me are Amy Adams, Anne Hathaway and Zooey Deschanel.
Among other opportunities, Adams got to show what she could do in the very charming "Enchanted," Hathaway showed off most triumphantly at the Oscars and Deschanel was beguiling in "Elf."
Of course, Deschanel also has a second job as one-half of the band She & Him (M. Ward is the "Him").
Below is her new video for "Don't Look Back." The video is retro, the song is fun and Deschanel looks beautiful (naturally).
. . .
Follow Sean Gerski on Twitter at http://twitter.com/DoubleDown44.