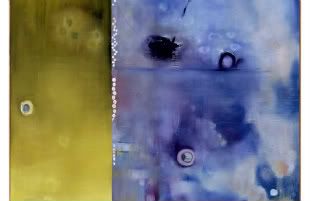 At the outset, the viewer may misjudge or immediately disregard this film. But stick with it. By the end, you understand that the way it is presented reflects that it is honest, deeply insightful and groundbreaking — an outstanding example of cinéma vérité.
The Black Dog is Scott Becker's term for the debilitating black hole depression he works hard to overcome every single day. Throughout seven years, he documents his treatments, failures and challenges with bi-polar disorder. But what's going to make people want to recommend this film is not only the characterization of such a good guy with such a dark demon, but the upbeat way he goes about staying functional and alive.
The first segment of "Black Dog" chronologically occurred last in real-life time. It is wisely positioned first. Dr. Richard Phillips — prescribing a surprisingly healthy, natural treatment — begins the film remarking, "You have to stay energized. Exercise is critical for those vulnerable to depression. About 35 minutes of daily exercise is as effective as any anti-depressant medication."
Is that true Prozac Nation?
Sequence No. 1, "Black Dog Running," documents Becker's forays into long distance running, a bit more than the 35 minute prescription. 64.4 miles in 18 hours, 33.4 miles in 8 hours and then 50 miles in 11 hours. He always finished dead last even with a coach. But there is no sense he is disappointed in this lack of success because winning this particular kind of race is not his goal.
The scary second part in the trilogy is shocking, literally. It begins with the view of Becker's feet sticking out of a sheet as he films his own admittance into the mental health wing of a hospital. He films from his view prone on a gurney. He has staff film the electric shock treatment.
No one wants to have the chance to feature in a film here. At some point an administrator comes in to insist on removal of the camera.
Becker explains to the audience, with straightforward candidness, "I've struggled with clinical depression for years. I've tried loads of medications, therapies and treatments. The Black Dog shook them all off. Eventually I moved to a residential treatment program in California . As part of my treatment my doctor prescribed a daily 38 minute dose of running. I call it my 38 Special."
As Becker, originally from Portland, Ore., gains some equilibrium he begins volunteering at an art center for developmentally challenged adults. It's called Creativity Explored Art Center, located in San Francisco. He exchanges stories of suicide attempts with one of the artists who becomes his friend. When this friend asks why his attempt wasn't successful, Becker responds, "The belt broke."
Altogether, Becker's treatment consists of exercise, volunteering, journaling through this film, relationships and his black lab.
But then life takes a dramatic turn, bringing double tragedies and sadness. How will Becker make it through the hard stuff?
By the end of the film, the art and gift of Becker's life recordings resound with a holiness. Though we will all have Black Dog days, there is a certain spiritual poignancy in watching this handsome, likable, intelligent, gentle man wrestle with his.

FILM CREDITS
Produced by Black Dog Art Ensemble and Collective Eye, Inc.
Filmmaker: Scott Becker
Premiered: 1/20/11 at the Northwest Film Center's Whitsell Auditorium at the Portland Art Museum
Web site: www.blackdogart.org
Trailer: www.blackdogrunning.org/Intro.html
. . .
Follow Bev Questad on Twitter at http://twitter.com/questad.