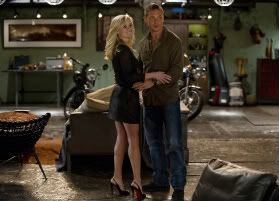 Love is a tricky thing, then again so is a successful blend of action and comedy.
In the new film "This Means War," director McG — who has shown his ability to construct this blend previously in "Charlie's Angels" and "Terminator Salvation" — is making another attempt to appease the masses with a funny, energetic and action-filled adventure, this time focusing on the love lives of two spies who happen to be friends.
CIA agents Foster (Chris Pine) and Tuck (Tom Hardy) have it made. They are two best friends who work together, have each other's backs and have the girls swooning over their charm and good looks. When each falls for a lovely product tester named Lauren (Reese Witherspoon), a friendly competition starts to see who can win her heart.
As you will see in the clips, it starts off very gentlemanly, setting up some basic ground rules and codes of conduct, but neither of the men end up playing fair when they employ the resources of the CIA to do some reconnaissance and gather information on Lauren to use to their advantage.
With neither playing by the rules, they begin to interfere with each other's time with Lauren and we go from friendly competition to outright loathing and intense anger with each other. Can their friendship survive this (and is she worth it all)?.
With six different clips, you get a nice gauge of the film's tone; it will be a mix of comedy, action and drama. It appears to be a fun date movie that both men and women can enjoy, so check these videos out. (Warning: Some of these clips open with the same montage but are all different.)
So what did you think? It's nice to see more of the film that we haven't seen from the trailers in the past. With the actors involved, I will definitely be seeing this film because I thoroughly enjoy their work and think that Tom Hardy is one of the biggest rising male stars in Hollywood today. "This Means War" also stars Chelsea Handler, Til Schweiger, Abigail Spencer, Angela Bassett and Rosemary Harris.
Is there one reason or another you want to see this film? Leave a comment and let us know what it is.
"This Mean War" opens Feb. 17.
. . .
Follow Adam Poynter on Twitter at http://twitter.com/CCWGGuy.
And don't forget to "Like" It's Just Movies on Facebook at
http://www.facebook.com/itsjustmovies.