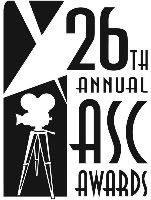 Emmanuel Lubezki, ASC, AMC; Jonathan Freeman, ASC; Michael Weaver, ASC; and Martin Ruhe claimed top honors in the four competitive categories at the 26th Annual American Society of Cinematographers (ASC) Outstanding Achievement Awards celebration at the Hollywood & Highland Grand Ballroom.
Lubezki won the ASC Award feature film award for The Tree of Life. For the second straight year, Freeman earned top accolades in the one-hour television episodic category for HBO's Boardwalk Empire. Weaver was the inaugural recipient of the half-hour television episodic category for Showtime's Californication, and Ruhe won the TV movie/miniseries award for PBS' Page Eight.
The ASC Award for best feature was presented by award-winning actor Antonio Banderas who noted, "As I have found in my career on both sides of the camera, filmmaking at its core is about telling stories with images."
Lubezki previously won the ASC Award in 2007 for Children of Men, and was also nominated in 2000 for Sleepy Hollow.
The other nominees in the feature film category were Guillaume Schiffman, AFC (The Artist), Jeff Cronenweth, ASC (The Girl with the Dragon Tattoo), Robert Richardson, ASC (Hugo) and Hoyte van Hoytema, FSF, NSC (Tinker Tailor Soldier Spy).
Currently onscreen in The Artist, James Cromwell and Penelope Ann Miller presented Freeman the Outstanding Achievement Award for Boardwalk Empire ("21"). This is the third ASC Award for Freeman, who has won for Boardwalk Empire (2011), and for the telefilm Homeland Security (2005). His accolades include additional ASC nominations for Boardwalk Empire (2011), Prince Street (1998), Strange Justice (2000) and Taken (2003).
The other nominees in the One-Hour Television Episodic Series/Pilot Category were David Franco for HBO's Boardwalk Empire ("To the Lost"), David Katznelson, DFF, BSC for PBS' Downton Abbey (pilot), John Lindley, ASC for ABC's Pan Am (pilot), and David Stockton, ASC for NBC's Chase ("Narco Part 2").
Emmy Award-winning actor Jon Cryer presented Weaver the award for Californication ("Suicide Solution"). Weaver was previously nominated for the television program Pushing Daisies (2008).
Nominees in the Half-Hour Television Episodic Series/Pilot Category were James Bagdonas, ASC for ABC's Modern Family ("Bixby's Back"), Michael Balfry, CSC for The Hub's R.L. Stine's The Haunting Hour ("Brush with Madness"), Vanja Cernjul, HFC for HBO's Bored to Death ("Forget the Herring"), and Levie Isaacks, ASC for ABC's Man Up ("Acceptance").
Emmy-nominee Amy Brenneman presented the television movie/miniseries to Ruhe for Page Eight. This was his first ASC nomination.
Nominated along with Ruhe were Ed Lachman, ASC for HBO's Mildred Pierce, Kevin Moss for Showtime's Chicago Overcoat, David Moxness, CSC for ReelzChannel's The Kennedy's ("Moral Issues and Inner Turmoil"), and Wojciech Szepel for PBS' Any Human Heart ("Episode 2").
Oscar-nominee Matthew Libatique, ASC presented the ASC Board of Governors Award to Harrison Ford in recognition of his tremendous body of work and contributions to the art of filmmaking. Ford earned an Academy Award nomination in 1986 for his compelling role as John Book in Witness. In 2000, the American Film Institute bestowed him with their Lifetime Achievement Award. In addition to receiving four nominations from the Hollywood Foreign Press for his roles in Sabrina (1996), The Fugitive (1994), The Mosquito Coast (1987), and Witness, Ford was revered by the organization with the 2002 Cecil B. DeMille Award at the Golden Globes.
The presentation of the ASC Lifetime Achievement Award to Dante Spinotti, ASC, AIC by Oscar-nominated writer-producer-director Michael Mann was a highlight of the memorable evening. Spinotti's U.S. career began in 1986 with his breakthrough visuals on Manhunter with Mann. He has compiled more than 60 venerable credits to date, collaborating with such ground-breaking directors as Bruce Beresford, Garry Marshall, and Michael Apted. His work with Curtis Hanson on L.A. Confidental in 1997 led to his first Oscar nomination, followed by a second nomination for The Insider in 2000, on which he re-teamed with Mann. Both films also earned Spinotti ASC Award nominations, with an additional nod from ASC for The Last of the Mohicans.
The Career Achievement in Television Award was bestowed upon William Wages, ASC (Riders of the Purple Sage, Buffalo Soldiers) by Charles Haid. The ASC Presidents Award was given to Francis Kenny, ASC (Heathers, Justified) by producer-director Michael Dinner. Ralph Woolsey, ASC and Woody Omens ASC presented the Bud Stone Award of Distinction to Fred Godfrey.
Last year, Wally Pfister, ASC, BSC won the ASC feature film award for Inception, and went on to take home the Oscar as well.
. . .
"Like" It's Just Movies on Facebook at http://www.facebook.com/itsjustmovies.