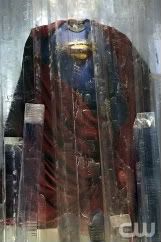 We are only a little more than a week away from the epic two-hour finale of "Smallville" and this week, we'll get to see Laura Vandervoort as Kara — aka Supergirl — one final time.
Here's the official description:
Clark (Tom Welling) takes Lois (Erica Durance) to the Fortress to get Jor-El's blessing for their marriage. Jor-El (voiced by Terence Stamp) bestows a unique wedding gift on the couple — he gives Lois super powers for a day. Unfortunately, the Toyman (guest star Chris Gauthier) has returned to Metropolis, so Lois must go up against the notorious villain instead of Clark. Meanwhile, Oliver (Justin Hartley) searches for the Bow of Orion, which he believes will remove the Omega symbol from his skull, and runs into Kara (guest star Laura Vandervoort), who is also on a mission to stop Darkseid.
Back in the episode "Supergirl," I really thought that we wouldn't get to see Kara again, so when it was announced that she was coming back again, it warmed my heart up. I liked "Supergirl" a lot — I really did — but at the same I didn't feel it was a good wrap up for her. I'm also thrilled to see Chris Gauthier back as Toyman; that man plays the role so creepy (in a good way) that I'm looking forward seeing him again as well.
Did you see the table where it said "Marionette Ventures"? From the looks of it, this appears to be Smallville's version of Legion of Doom with villains such as Dark Archer, Roulette and Metallo. Also, we will get to see for the first time in live action Solomon Grundy, Captain Cold and Black Manta.
Back when they did the Injustice League, I felt that they could have done more with them, so I hope they will do more this time with LoD. The preview also shows that Granny Goodness is returning. Christine Willes portrays that role so perfect, she kind of gives me that feeling when you saw (and heard) Granny back in the animated Superman series (where Granny was voiced by Edward Asner).
Also, we got a glimpse of Kara putting on the Legion ring – something tells me that this time, we'll get a satisfying wrap up for her.
I swear that I have seen that star somewhere before — I think it looks similar to what controlled Superman in the Batman Beyond episode "The Call: Part II" and from the looks of the trailer, Stargirl won't be the only one to be controlled – a super-powered Lois will unfortunately ´get controlled as well.
As you can see in the image included with this story, the Superman costume makes an appearance in this episode and since the finale is next week – who knows what could happen this week. I'm looking forward to this episode.
Don't miss the final appearance of Supergirl this Friday on "Smallville" at 8 p.m. EST on The CW. Let us know what you think and expect from this episode by hitting with your comments to the right.
. . .
Follow Andy Behbakht on Twitter at http://twitter.com/Haoh93.
And don't forget to "Like" It's Just Movies on Facebook at
http://www.facebook.com/itsjustmovies.