After months of speculating and discussion, it's official — the title for the upcoming Superman reboot is "Man of Steel."
And not only was the title announced, but the villain Superman will face also was confirmed. Remember all those interviews when Zack Snyder denied a certain general would be in the movie? Well, it looks like he was either keeping this as a secret or something changed his mind because the villain is none other than General Zod, and the role has been cast as well.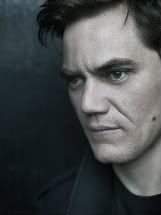 Michael Shannon will play General Zod, which means that Viggo Mortensen won't be Zod after all (a fact that disappoints me). I think that Mortensen would have done a great Zod, but just like I do with every new actor who is cast in a role, I will give him a chance and see what he will do. And Shannon (pictured at right) certainly has been sufficiently creepy in his on-going role on HBO's terrific drama "Boardwalk Empire."
This is Snyder's comment on the casting of Shannon:
Zod is not only one of Superman's most formidable enemies, but one of the most significant because he has insights into Superman that others don't. Michael is a powerful actor who can project both the intelligence and the malice of the character, making him perfect for the role.
It's sad that the rumor I wrote about a few days ago [http://itsjustmovies.com/15151] turns out not to be true because I really wanted to see other villains from the Superman universe in this movie. We already had Zod in the Christopher Reeve/Brandon Routh series. So why not bring in a villain who has yet to have his or her chance in the spotlight? At least it's not Lex Luthor — but I wouldn't be surprised if Luthor actually has some sort of role in the movie, even if it's just a cameo.
Jimmy Olsen and Perry White are the only roles left that I'm waiting to hear about and if they are in the movie, casting should be announced soon.
"Man of Steel" — starring Henry Cavill, Amy Adams, Kevin Costner, Diane Lane and Michael Shannon — is scheduled to fly into theaters in December 2012. . In the meantime, discuss and leave your comments to the right. Are you happy with the title? What do you think of Michael Shannon as General Zod?
. . .
Follow Andy Behbakht on Twitter at http://twitter.com/Haoh93.
And don't forget to "Like" It's Just Movies on Facebook at
http://www.facebook.com/itsjustmovies.