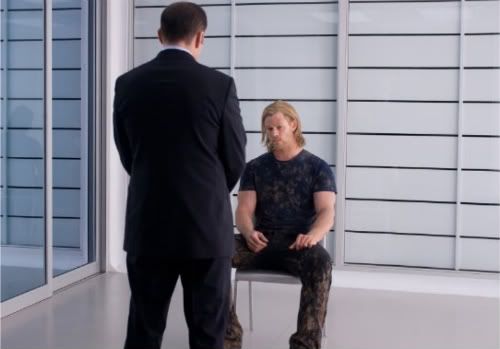 In less than a month, one of the two upcoming superhero movies from the Marvel universe will make its entrance to the big screen – "Thor" — and today, we have a new clip and a special feature that takes us behind the scenes of the movie.
The clip features a humorous scene when Thor is at the hospital. I'm sure there will be plenty more scenes of this types in the movie. The actors in the scene include Chris Hemsworth, Natalie Portman and Kat Dennings.
In addition, there is a behind-the-scenes featurette, with information more about Asgard. The film's actors — along with the producers and director Kenneth Branagh — talk about the set, the movie and more.
I must say that I want to dive more into the Thor mythology, but I think I'm going to save it for the movie. The featurette itself makes me more and more excited about the movie. Unfortunately, as I'm from Sweden, the fanboy within me will have to wait a little bit longer than most until I can see the movie.
"Thor" will hammer its way into theaters May 6.
. . .
Follow Andy Behbakht on Twitter at http://twitter.com/Haoh93.
And don't forget to "Like" It's Just Movies on Facebook at
http://www.facebook.com/itsjustmovies.