Zooey Deschanel joins Winnie the Pooh and all of his friends in the Hundred Acre Wood, performing three songs for the film, including her own take on the classic "Winnie the Pooh" theme song, "A Very Important Thing to Do" and the original end-credit song "So Long," which was written by Deschanel and performed with She & Him band-mate M. Ward.
"This has been one of the most fun experiences I've ever had," says Deschanel. "And I've just been thanking my lucky stars that I was able to work on this movie, because it's delightful."
"I'm a big fan of Winnie the Pooh and all his friends," says Deschanel, who also plays the ukulele in the song. "It's really hard to pick a favorite: Winnie the Pooh is so special, he loves honey and he's just cool. Eeyore is amazing, I love Eeyore. And Piglet is so small. It's really a four-way tie between Winnie the Pooh, Eeyore, Piglet and Tigger."
Among the songs Deschanel performed for the film is "A Very Important Thing to Do" — a song that helps illustrate the contest the friends from the Hundred Acre Wood take on to find Eeyore a new tail. She also lent her voice to "Everything is Honey" and "Pooh's Finale," joining Jim Cummings (the voice of Winnie the Pooh and Tigger), Tony Award®-winning songwriter Robert Lopez ("Avenue Q") and other cast members.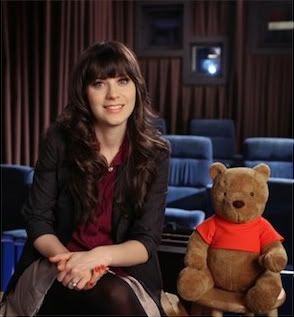 For the end-credit song, Deschanel teamed up with Ward to perform "So Long," a song Deschanel wrote.
"When I was writing 'So Long,' I just held the images for the end credits in my mind," she says. "I spent a number of days tinkering with ideas, melodies and chord progressions that I thought would fit the images, the new music being written and the original Sherman Brothers stuff– but still be my own thing. The song definitely has its own feel, but also pays respect to the original."
Deschanel plays piano for "So Long" and turned to the instrument when it came time to write the song.
"I usually write on piano because that's the first instrument that I learned when I was a little kid," she says. "All of my musical theory knowledge is in linear piano form."
Her heart, however, is in the vocals. "I'm always thinking in terms of vocals, and arranging a fabric of vocals is the most exciting part. I love to sing backup parts. I always try to squeeze in as many as possible," she says. "It's fun — it's my style."
"Winnie the Pooh" hits theaters July 15.
. . .
"Like" It's Just Movies on Facebook at http://www.facebook.com/itsjustmovies.