The newest theatrical trailer for Marc Webb's "The Amazing Spider-Man" has been revealed and it showcases much more action footage than we have seen in the past trailers. This is a far superior trailer, and the visual effects seem much more precise and clean.
Take a look at the trailer and then we can discuss it.
For starters, here is the basic premise; "The Amazing Spider-Man" is the story of Peter Parker (Andrew Garfield), an outcast high-schooler who was seemingly abandoned by his parents as a young boy, leaving him to be raised by his Uncle Ben (Martin Sheen) and Aunt May (Sally Fields). Blessed with a near-genius intellect, he is struggling with the tribulations of youth while trying to figure out who he is and how he came to be that way.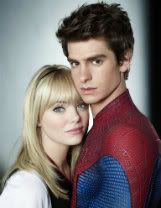 Another hurdle he is dealing with is his high school crush, Gwen Stacey (Emma Stone), and how he can be in a relationship with someone when he has so many secrets of his own. Peter discovers an old briefcase of his father's that puts him on a quest of discovering the truth — a quest that brings him to the OSCORP labs and Dr. Curt Conners (Rhys Ifans) — his father's former partner — who is more connected to the Parker family than Peter could ever know. When Spider-Man meets Dr. Connors' alter ego, The Lizard, he must make life-altering choices to use his powers in a way that can change his destiny and make him a true hero.
There is so much going on in this trailer so let's break it down into some of the main parts: we see Gwen Stacey helping nurse Peter's wounds and she knows about him being Spider-Man. I assume this doesn't happen right away, but further into the movie. This is different from Sam Raimi's trilogy where Mary Jane didn't learn of Peter's secret identity until the end of the second film.
Next, we see and hear people at OSCORP that don't want Peter learning about his mother and father. This alone hints that there is a lot more going in and being hidden. That leads me to the biggest bit of plot that we have learned through this trailer, Peter's accident with the radioactive spider might not have been an accident, but maybe an experiment. This is the most intriguing part of the trailer to me.
All of this new information mixed with seeing The Lizard unleash some sort of chemical warfare on this city sets up "The Amazing Spider-Man" to be quite the thrilling film. Seeing The Lizard in the lab coat even for just a single scene is a fan's dream and really shows how Webb is going to be including parts of the mythology for the fans of the comics and the characters themselves and that makes me glad. Another positive is knowing that the movie is being filmed in glorious 3D and hearing that the reactions to seeing the footage was very positive gets me even more excited to see the movie.
Everything about this trailer is more polished and even the city looks amazing and I am sure all of those involved in the making of this movie will be proud of the end result. In this summer of superhero films is "The Amazing Spider-Man" on your list of must see films? What is your favorite part of the new trailer? Leave a comment and let us know!
"The Amazing Spider-Man" is set to swing into theaters July 3 and will be available in 2D, 3D, and IMAX 3D.
. . .
Follow Adam Poynter on Twitter at http://twitter.com/CCWGGuy.
And don't forget to "Like" It's Just Movies on Facebook at
http://www.facebook.com/itsjustmovies.