This has been the week for scoops of "The Dark Knight Rises." We have seen Bane and the problems he will cause for our caped crusader – now it's time for the second biggest thing with Christopher Nolan's final installment of Batman — a first look at Anne Hathaway as Seline Kyle (AKA Catwoman).
Nolan has done it again. This version of the Catwoman suit whips the version from "Batman Returns" and "Catwoman" in so many ways. It looks realistic and not as overly complicated or revealing as the other incarnations were. It looks simple and much more serious, which is what I wanted her to look like in Nolan-verse.
Now, moving on to a specific part of the outfit — which will most certainly be discussed a lot – the mask. I was concerned whether or not she would wear a mask (or goggles as she does in several versions in the comics) and if so, would Nolan be able to make it look realistically good. It appears that I really had nothing to worry about. I like the high-tech touch that has been added to her appearance, and also it shouldn't be a surprise that Nolan would go for something high-tech looking to disguise for her face.
Whether she will be a villain or an ally to the Dark Knight remains to be seen, but the fact that she's riding the pod could mean so many things – maybe she stole it or maybe she actually got it from Batman himself.
And here are three shots from the set of the stuntwoman in the outfit: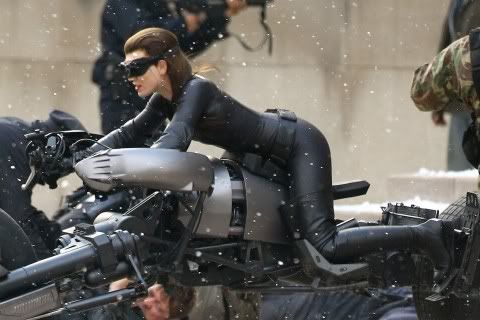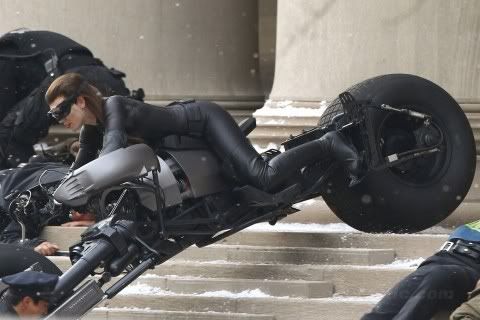 So now that we have seen her outfit, a new question will rise in our minds – will it look good in motion? Well, everything else Nolan has done so far has been perfect so far, so yes, I think it will.
"The Dark Knight Rises" — starring Christian Bale, Gary Oldman, Morgan Freeman, Michael Caine, Tom Hardy, Anne Hathaway, Joseph Gordon-Levitt and Marion Cotillard – is scheduled for a July 20, 2012, release. I want to hear your thoughts on Nolan's take on the Catwoman suit – does Hathaway look good in it? Hit it with your comments to the right.
. . .
Follow Andy Behbakht on Twitter at http://twitter.com/Haoh93.
And don't forget to "Like" It's Just Movies on Facebook at
http://www.facebook.com/itsjustmovies.