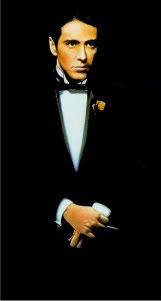 Cinemark Holdings Inc. is following up the successful presentation of Francis Ford Coppola's restored version of his Academy Award-winning "The Godfather" with an exclusive, one-night only XD presentation of "The Godfather Part 2" on April 19.
The "Coppola Restoration" of the film, presented by Paramount Pictures, was meticulously restored using 5.1 digital surround sound and re-mastered using state-of-the-art technology, all under the watchful eyes of director Francis Ford Coppola, archivist Robert Harris and cinematographer Gordon Willis.
"The response to the first 'Godfather' movie in Cinemark XD was incredible, so it is natural to present 'The Godfather Part 2' to our customers," said James Meredith, vice president of marketing for Cinemark Theatres. "We are very pleased to once again work with Paramount to show this award-winning classic film on our XD screens and give it the true big-screen treatment it deserves."
The brilliant companion piece to "The Godfather" continues the saga of two generations of successive power within the Corleone Family from a screenplay by Francis Ford Coppola based on Mario Puzo's novel. Directed by Francis Ford Coppola, "The Godfather Part 2" tells two important stories: the roots and rise of a young Don Vito, played with uncanny ability by Robert De Niro, and the ascension of Michael (Al Pacino) as the new Don. Reassembling many of the talents who made "The Godfather," Coppola produced a movie of staggering magnitude and vision, and undeniably the best sequel ever made. Robert De Niro won an Oscar, and the film received six Academy Awards, including Best Picture in 1974. The film has been rated R by the MPAA.
The Coppola Restoration of "The Godfather Part 2" 40th Anniversary Edition as a project began in 2006 between Paramount Pictures and the director. Archivist Robert Harris joined the project, followed by the original cinematographer of the film Gordon Willis, to complete the team who worked arduously on the film for over a year going through the original prints, re-release prints, and negatives, shot by shot, foot by foot, frame by frame and even sprocket hole by sprocket hole.
. . .
"Like" It's Just Movies on Facebook at http://www.facebook.com/itsjustmovies.