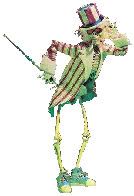 Fathom and Rhino Entertainment will present "The Grateful Dead Movie" in select movie theaters nationwide for a one night event April 20 at 7:30 p.m. (local time). This special event will include an exclusive never-before-seen interview with Jerry Garcia conducted while he was directing this legendary production over 35 years ago.
The feature includes band performances of "U.S. Blues," "One More Saturday Night," "Casey Jones," "Playing in the Band" and "Sugar Magnolia," among other Dead classics.
Tickets are available at www.fathomevents.com/concerts/event/gratefuldead.aspx.
. . .
"Like" It's Just Movies on Facebook at http://www.facebook.com/itsjustmovies.