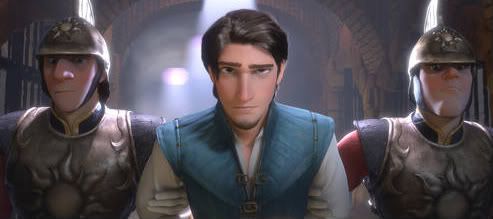 Disney's "Tangled"
— starring Mandy Moore ("A Walk To Remember," "Saved!") and Zachary Levi ("Chuck") — is now out on blu-ray and DVD. To celebrate, we are giving away a Blu-Ray-DVD combo pack. In addition, Flynn Ryder himself, Mr. Zachary Levi, will personally hand sign a "Tangled" one-sheet movie poster for the contest winner! (See the contest details below.)
"Tangled"
features Rapunzel (Mandy Moore), a young girl hidden away from the world by her overprotective mother, Gothel. Rapunzel dreams of discovering what the world holds, when suddenly Flynn Ryder (Zachary Levi), a caddish drifter stumbles into her life. They strike a deal and Flynn agrees to lead her through the forest and find the hidden strength she never knew.
In addition to the contest, we have embedded an entertaining widget below for your enjoyment.
The widget includes the following fun features:
Tangled Talents! Children of all ages can discover talents they might not have known they had! Whether you are an aspiring artist, chef or just feeling crafty, Rapunzel will lead the way as you find your own hidden abilities!
Decorating Tips by Designer Claire Keane! Claire Keane, daughter of "Tangled" director and animator Glen Keane, will share tips on how to decorate your room just like Rapunzel's including a time lapse video of Claire painting a mural!

THE GIVEAWAY
This special contest will end April 8 at 12:01 p.m. EST. To enter, you must LIKE It's Just Movies at Facebook — https://www.facebook.com/itsjustmovies — and find the "Tangled" post on that page called "Which Disney character do you most resemble?" (And if you already LIKE us on Facebook, you are one step ahead of the game!)
When you see that post, enter the Disney character you most resemble in personality in the comments section and you are entered to win. One winner will be selected at random. (Unfortunately, the contest is open only to resident of North America — due to regional playback issues).
Good luck!
. . .
Follow Sean Gerski on Twitter at http://twitter.com/DoubleDown44.
And don't forget to "Like" It's Just Movies on Facebook at
http://www.facebook.com/itsjustmovies.