— by CHERRY BELL DAMASCO-FARRINGTON —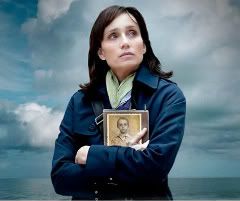 In numerous films that relate events surrounding World War II, it is not often that we see the plight of children during those harsh times. Also seldom seen is the cruelty other nations inflicted upon the Jewish around the world. Secrets are kept and lies are told to save the innocent from persecution. And some secrets are kept for so long, it is as though the ones closest to us truly did not know who we are.
In the film "Sarah's Key," based on the French novel "Elle s'appelait Sarah" by Tatiana Rosnay, the husband of modern-day journalist Julia Jarmond has inherited a house in Paris. Soon, Julia (played by Kristin Scott Thomas of "The English Patient") finds her life entwined with that of a young girl whose family previously owned the home in which she now resides.
Julia finds herself wanting to find out the truth about the Jewish family that lived in her house. She begins her investigation of what happened to Sarah Starzynski and her younger brother, Michel, during the Vel' d'Hiv Round Up of the Jews in Paris, and in a flashback to 1942, 10-year-old Sarah locks her younger brother Michel in a closet when the French police come to arrest them, and Sarah carries the key with her thinking that they will only be away a few hours.
The tale focuses on Julia and her modern day struggles of balancing work with everyday life, a midlife crisis and a divorce. All the while, the film flashes back to events that surround Sarah and her struggle to return to her younger brother, whom she had locked away in a closet in Nazi-occupied France and the secret she will keep for the remainder of her days.
In this clip, Julia is searching through the documentation of all those who were transported to Vel'd'Hiv in 1942 and afterwards to Auschwitz, and finds no record of Sarah or Michel Starzynski being transferred to a concentration camp making her believe that they are still alive to this day.
In the following clip, Julia pitches her story of those sent to Vel' d'Hiv and asks for 10 pages to cover the story.
Here, Julia sits down with William Rainsferd (played by Aidan Quinn, most recently seen in "Jonah Hex") to talk about his mother and his uncle Michel whom he had no knowledge of before this encounter with Julia. The surprise, denial and disbelief is hard to miss.
The indie dram,a which is distributed by the Weinstein Company in the United States, began a limited release starting July 22. If fictional historical dramas are your thing, this just might be one you will want to go see.
. . .
Follow Cherry Bell Damasco-Farrington on Twitter at https://twitter.com/cbdamasco.
And don't forget to "Like" It's Just Movies on Facebook at
http://www.facebook.com/itsjustmovies.