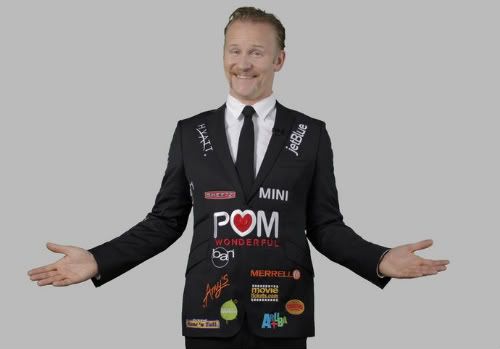 Director Morgan Spurlock made his name with "Super Size Me," a documentary about eating McDonald's every day for a month and the consequences of doing it. Since then, he has made a few more things here and there, but none has left nearly as big an impression. However, Spurlock looks to be back on form with his newest film, "The Greatest Movie Ever Sold."
In the film, Spurlock is taking a look at product placement, marketing and advertising in movies. In fact, not only is Spurlock looking at that world, he has involved himself in it. The movie's official title is "Pom Wonderful Presents: The Greatest Movie Ever Sold."
In this first clip, you can see Spurlock approaching a number of brands and small advertisers in order to close some funding for the movie. In one part of the scene, you can see him show an advertiser storyboards that show him selling them on being in the film and telling them it will be a scene in the movie. It's pretty clear this movie is all about being meta (which is fine by me).
In this next clip, Spurlock asks people he meets to define their "brand." What's funny to me is that I would be hard pressed to give him an answer about myself, but I could give him an answer for each of the people he interviews. Some things are just easier to see from the outside. My favorite part of the clip involves the Cubs fan on the left.
And in the final clip, Spurlock explains to publicists what the film is hoping to show in order to gauge response from advertisers and the audience.
Look for "Pom Wonderful Presents: The Greatest Movie Ever Sold" in theaters starting April 22.
. . .
Follow Sean Gerski on Twitter at http://twitter.com/DoubleDown44.
And don't forget to "Like" It's Just Movies on Facebook at
http://www.facebook.com/itsjustmovies.