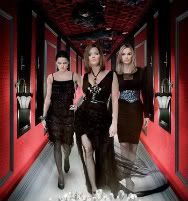 If I had to choose one subject matter that has taken over all media in the past five years, I would pick vampires. It started with the "Twilight" books and movies and has moved on to television in HBO's "True Blood" and also the CW's "The Vampire Diaries." Vampires are more prevalent now than ever before. So it's no wonder that the entire world is taking a bite out of this trend by developing movies and television series in this genre. One of the most recent is an upcoming film from Germany called "We Are the Night."
"We Are the Night" is a sexy and action-packed look at the provocative world of vampires in modern times. When 20-year-old petty thief Lena (Karoline Herfurth) goes to an underground club, she runs into Louise (Nina Hoss), a 250-year-old vivacious and glamorous vampire who owns the club. She is also the leader of an all-female vampire trio that includes the elegant Charlotte (Jennifer Ulrich) and Nora (Anna Fischer), a young vampire in need of taming. Loiuse becomes infatuated with Lena and seduces and bites her on their first night together. Once bitten, Lena discovers all of the joys of her new eternal life. Soon the fun and freedom quickly changes into horror as the blood begins to flow in the path of the groups ravenous and murderous appetites. When a police commissioner (Max Riemelt) begins to look into the group's past, it is just a matter of time before he can connect the dots and uncover the path of death and destruction that they leave wherever they go.
In these three newly-released clips, we learn a lot about the characters. In "Transformation," we see newly-bitten Lena begin her transformation into becoming a vampire. As she relaxes in the bath, you see her wounds begin to heal rapidly and the beauty that is associated with vampires takes her over. I really enjoyed the scene in which she goes under the water and changes. Watch the video below and see what I mean.
Next up is "Take Yours," in which we see the money and power that century-old vampires have and even though they are dead it doesn't mean they don't still shop like regular women. We also see the pain in Charlotte's eyes as the thought of children brings her to sadness.
Lastly, in "No Smoking," it is revealed why there are no male vampires anymore. There is a bit of comedy in this scene as Charlotte's antics scare off some annoying patrons in the restaurant in which they are eating. Lena also gets some questions of hers answered about the secret society of female vampires.
So what did you think of these three clips? I think the concept is very interesting as vampire stories are usually told from the male perspective and generally it is a male vampire seducing and feeding off women. So the story seems original enough and I think this could turn out to be a very cool movie. Leave your comments to let us know what you think of the film.
"We Are the Night" is open in limited release now and available in certain regions in Video on Demand.
. . .
Follow Adam Poynter on Twitter at http://twitter.com/CCWGGuy.
And don't forget to "Like" It's Just Movies on Facebook at
http://www.facebook.com/itsjustmovies.