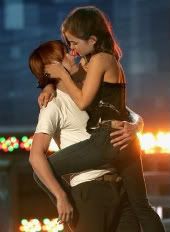 For those frequent readers of It's Just Movies, my love of all things Harry Potter comes as no surprise. I own multiple editions of the books and have been Hermoine for more than one Halloween. The fact that the movies are finally ending is something I prefer not to think about until I absolutely have to. Watching the featurettes below was a very bittersweet feeling.
The first featurette gives a little background from the producers of the series as to why "Harry Potter and the Deathly Hallows: Part II" is important. For those who have read the books and kept up with the films, none of the stuff is too surprising. The real fun comes from all the various clips from the final movie that they show and, for me anyways, trying to match them up with the moments from the book. Of course, the big unveiling in this clip is the opening scene from "Harry Potter and the Deathly Hallows Part 2" and let's face it, the scene is pretty anti-climactic. It picks off exactly where "Part 1" left off. Instead of going into something dramatic, the film decides to go the route of exposition. If you aren't familiar with the books, it will probably be more interesting.
The second featurette is a cute look at the technology behind the flying scenes in the "Harry Potter" series, which apparently has been a closely-guarded secret. What is great about this featurette is the interviews and clips they are able to get from the previous films. It's endearing to see how Daniel Radcliffe, the actor who plays Harry Potter, has changed over the years and showing off the different brooms used over the various years brings back some good memories.
The final featurette has Radcliffe talking about what other fellow actors he has looked up to during the film: Gary Oldman and Imelda Staunton (playing Siruis Black and Dolores Umbridge respectively). This featurette is perhaps the most personal look into the films, because we get to see how seriously Radcliffe takes the role of Harry Potter and how the actors interact between takes. It's a refreshing change from having to be so submersed in the world of "Harry Potter" that the actors are pretty much their characters.
"Harry Potter and the Deathly Hallows: Part II" will be in theatres July 15 and stars Daniel Radcliffe, Emma Watson and Rupert Grint.
. . .
Follow Allison Higginbotham on Twitter at http://twitter.com/allisonbh.
And don't forget to "Like" It's Just Movies on Facebook at
http://www.facebook.com/itsjustmovies.