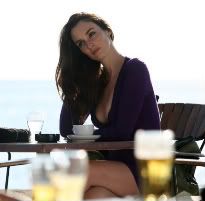 My best friend Teri-Ann always says for her next job (she's currently a nurse) she wants to be a detective. Something tells me with zero professional detective experience, she would still fair better than the guys of "Cat Run," who start their own detective agency.
Anthony (Scott Mechlowicz) has always wanted to be a famous chef, and his buddy Julian (Alphonso McAuley) loves chasing women. So what better to do then become detectives? "Huh?" you say and scratch your head. Yeah, I don't get it either.
But anyway, the two are assigned to protect an escort (Paz Vega), who holds evidence to a government scandal. She's running from the mob, a Mary Poppins-like assassin (?) and a corrupt senator (Christopher McDonald).
From the trailer, it kinda seems like this film is fast-paced and all over the place. Government cover-ups! Violence! Color Me Badd's "I Wanna Sex You Up!" D.L. Hughley! No sign of that Mary Poppins-like assassin, though. Darn.
. . .
Follow Amanda Koehler on Twitter at http://twitter.com/AEKoehler.
And don't forget to "Like" It's Just Movies on Facebook at
http://www.facebook.com/itsjustmovies.