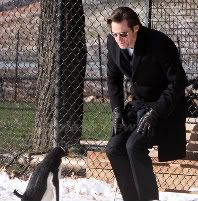 I love penguins, and they've been my favorite animal for a long time. Once my mom realized my love for them, she started buying me everything penguin-related … which is the reason why, at 26, I still own four pairs of penguin pajama pants (thanks, Mom). Sexy.
However, I never read "Mr. Popper's Penguins," the 1938 children's book by Richard and Florence Atwater. Now, the classic book is being made into a movie, starring Jim Carrey as Mr. Popper.
Mr. Popper is a house painter obsessed with Arctic exploration. He decides to write letters to explorers, one of whom sends him a penguin in return. Before long, Mr. Popper has 12 penguins who are taking over his apartment and his life, making him go a wee bit crazy.
He decides to start Popper's Performing Penguins, a touring stage act with his penguin pals, but chaos ensues everywhere he brings them.
The trailer is cute and endearing, and no one does "a wee bit crazy" better than Carrey. The film also stars Carla Gugino and Angela Lansbury.
Waddle to your nearest movie theater on June 17, when "Mr. Popper's Penguins" opens nationwide.
. . .
Follow Amanda Koehler on Twitter at http://twitter.com/AEKoehler.
And don't forget to "Like" It's Just Movies on Facebook at
http://www.facebook.com/itsjustmovies.