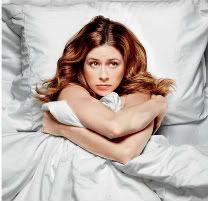 "The Office" has one of the largest ensemble casts on network television, so it's no surprise that some of its supporting players are following in Steve Carell's footsteps and making a splash on the big screen. Ed Helms found comedy gold with "The Hangover." Rainn Wilson has popped up in quirky indies like "Juno" and "Super." The always charming John Krasinski has found a comfortable niche in romantic comedies like "It's Complicated" and "Something Borrowed."
But one of the hit NBC sitcom's major supporting players has yet to make the same mark — Jenna Fischer, who plays receptionist-turned-salesperson-turned-office manager Pam Beesly Halpert. She's had some solid comedy roles in "Blades of Glory" and "Walk Hard," but the talented actress is finally getting her shot as a leading lady.
In the indie dramedy "A Little Help," Fischer plays Laura, a dental hygienist whose husband Bob (Chris O'Donnell) is having an affair and whose son Dennis (Daniel Yelsky) is entering the phase of pre-pubescent angst. When Bob dies suddenly of a heart abnormality, an already frazzled Laura is at a loss about how to pick up the pieces.
Laura's mother (Lesley Ann Warren) and sister (Brooke Smith) step in to help, which only complicates things further. They convince her to send Dennis to a new school, where he impulsively tells his classmates his father died in 9/11. They persuade her to file a malpractice suit against the doctor who misdiagnosed Bob's heart condition. And through all the family drama, she forms an unlikely bond with her sister's husband Paul (Rob Benedict).
"A Little Help" doesn't look like anything groundbreaking, exploring the same themes of starting anew following a life crisis that are so often at the center of quirky indies. But overall it still looks like a solid little film, and it should give Fischer a chance to show off her acting chops in a role that is most unlike her "Office" alter ego.
"A Little Help" opens in limited release July 22.
. . .
Follow Alexa Milan on Twitter at http://twitter.com/alexamilan.
And don't forget to "Like" It's Just Movies on Facebook at
http://www.facebook.com/itsjustmovies.