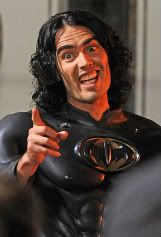 A remake of the 1981 romantic comedy of the same name, "Arthur" is about, well, Arthur (Russell Brand), a spoiled, rich man-child who still has a nanny named Hobson (Helen Mirren) looking after him.
Anyway, Arthur finds out he is betrothed to Susan (Jennifer Garner), a rich, aggressive woman Arthur doesn't really care for. He tells his mother he doesn't want to marry Susan; he's actually in love with tour guide Naomi (Greta Gerwig). But Mum says if Arthur doesn't marry Susan, he's cut off.
Arthur decides it's finally time to grow up, so he goes looking for a job, along with taking care of an ill Hobson.
Brand seems like a perfect fit to play a man who needs to start acting his age, and I'm certain he'll end up with Naomi, and he'll probably somehow be able to keep his fortune while also being able to call himself an Adult (because don't they always end up having it all in these films?). But I think the real focus here (according to the trailer) will be on the relationship between Arthur and Hobson. The role of Arthur's nanny was played by a man in the original version, but I think if anyone's up for a little gender reversal, it's Dame Helen Mirren. She recently took on a male's role in "The Tempest" as well.
Check out "Arthur" in theaters on April 8.
. . .
Follow Amanda Koehler on Twitter at http://twitter.com/AEKoehler.
And don't forget to "Like" It's Just Movies on Facebook at
http://www.facebook.com/itsjustmovies.