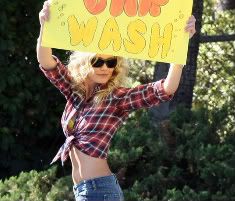 As much as I love great movies, I will admit a certain fondness for not-so-good movies, too. In fact, I spent this past weekend cleaning and in the background, I dug out some comedies of which Roger Ebert certainly wouldn't approve.
However, these movies need something to make them watchable. If the plot is derivative, they should be funny. If the they aren't funny, populate them with characters with whom I might want to spend an hour and a half with.
On the surface, "Bad Teacher" seemed like it could be a good candidate for a dumb, fun movie. Jason Segel is great and I like Cameron Diaz more than most (heck, I even like Justin Timberlake in small, SNL-sized doses).
I watched the red-band trailer for the movie first and I didn't laugh … or even smile. The trailer seemed to use profanity in place of jokes (like a really bad blue comic). I hoped to get a truer sense of the film's humor with the green band feature trailer (embedded below). Unfortunately, there is still little humor to be found (and the swearing was almost there, but it was clumsily deleted in spots). Maybe it's just me and other people will be into it. Check it out below and see for yourself.
Directed by Jake Kasdan and written by Gene Stupnitsky, look for "Bad Teacher" in theaters starting June 24. I'm more likely to catch it while cleaning the house some day — to see if it's better than the trailer.
. . .
Follow Sean Gerski on Twitter at http://twitter.com/DoubleDown44.
And don't forget to "Like" It's Just Movies on Facebook at
http://www.facebook.com/itsjustmovies.