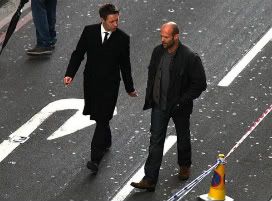 There is no end in sight for serial killer movies. It seems this is a storyline that can be exploited and exploited again with huge possibilities for its outcome. They can be huge hits ("Silence of the Lambs," "Saw") or misses (I won't put any movie on the spot, but you know what they are). What made the ones that became "hits" so popular? Usually it was the shock value. Or it was the way the killer is so carefree with his actions, and perhaps didn't appear to be someone capable of doing these crimes. Either way, the possible plots for serial killer movies are endless.
From watching the trailer for the new British film "Blitz," all I can say is, "I like it, I really like it." Perhaps the controversial plot alone will nudge people towards it. "A tough cop is dispatched to take down a serial killer who has been targeting police officers."
The tough cop: Jason Statham
With this film, he seems to go back to his roots in the likes of "Snatch" and "Lock, Stock and Two Smoking Barrels." It's that same cool style and vibe that made him famous, and I think it is absolutely genius. Especially now that he has established himself as an action star, he can actually build on his old characters, and make the ultimate British-American mix.
The serial killer: Aidan Gillen
I have loved him in everything I have seen him in, especially "12 Rounds" and "Shanghai Knights." In both of these, he was a great villain. Well, now he's going to give Jason Statham a run for his money, as you can see in the trailer below.
I am sure "Blitz" is hoping to capitalize on its cool stars and serial killer plot. But watch the trailer below, which I feel is very well put together, and then chime in on your thoughts about it.
"Blitz" — which will hit theaters sometime in 2011 — also stars Paddy Considine ("Hot Fuzz" and "Bourne Ultimatum") and David Morrissey ("The Other Boleyn Girl" and "Centurion.").
. . .
Follow Josue Sanchez on Twitter at http://twitter.com/Josue_can.
And don't forget to "Like" It's Just Movies on Facebook at
http://www.facebook.com/itsjustmovies.