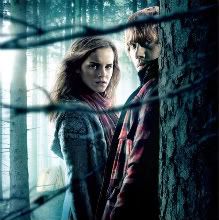 The first official trailer for "Harry Potter and the Deathly Hallows: Part 2" is here, and yes, it is epic. Filled with action, it's also dripping with emotion.
This is it my friends. The end of an extraordinary journey and its significance is definitely felt when you watch this intense 1:57 spot. In the beginning, the music is twisted and warped like the mind of Voldemort, but within moments the eerie, memorable score quickly transforms into a majestic orchestra, framing several heroic and emotional scenes.
To be honest, this preview gave me goosebumps and it almost managed to do me in. Like many who have read the wonderful works of J.K. Rowling, I've imagined this moment. With a heavy heart, I've envisioned the finale and it's mere months away.
But enough of me blathering on. Watch the trailer. In it, you will catch a glimpse of the Room of Requirement firestorm, Bellatrix and Mrs. Weasley, Gringotts Bank, and the final confrontation between Harry and Voldemort.
Your comments are welcome to the right. Tell me what you thought of this amazing trailer! Do you love it or do you hate it?
. . .
Follow Sherice Antoinette on Twitter at http://twitter.com/ShericesPieces.
And don't forget to "Like" It's Just Movies on Facebook at
http://www.facebook.com/itsjustmovies.