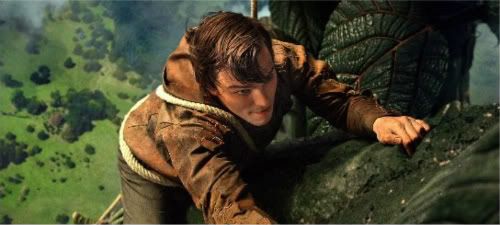 Fairytales have been a part of modern-day story telling for years, constantly being re-invented for new generations. "Jack and the Beanstalk" can be added to the recently-revised list as it hits theaters with a new twist. "Jack the Giant Killer" is a mixture of the classic tale mixed with a British story that has been around since the 18th century.
"Jack the Giant Killer" tells the story of a young farmhand, Jack (Nicholas Hoult). Jack receives a gift in the form of magic beans, but when he doesn't heed the warnings about these special beans he accidentally makes a beanstalk which opens the gateway to a world of fearsome giants. To make matters worse, the fair Princess Isabelle (Eleanor Tomlinson) was taken up the beanstalk and now he must join the King (Ian McShane) and a brave general (Ewan McGregor) in an effort to travel up into the clouds, rescue the princess and defeat the giants before they can return and wreak havoc upon the lands once again. This quest will not be easy as there are forces inside the King's regiment that don't want the rescue to succeed.
We have the first teaser trailer for the film, and here it is:
The trailer is pretty basic, as well as self explanatory, in the way it sets up the film. I find it interesting that Bryan Singer is directing, as I loved his work on the X-Men films and "Valkyrie." This movie seems like it could be right up his alley if done properly and could be an entertaining film.
Nicholas Hoult — also known as Hank McCoy/Beast from the 2011 hit "X-Men: First Class" — seems to be really on the rise with a starring role in "Jack the Giant Killer." I enjoyed his betrayal of the tortured genius in "X-Men: First Class" and I think he can pull off this part easily. The supporting cast seems to be a good mixture of actors from all genres and also includes Stanley Tucci, Bill Nighy and Warwick Davis.
The film is obviously catering to families and that is OK, but it would have been nice to see it made in a more adult way, instead of the probable PG or PG-13 rating it is likely to receive. I do like the concept and design of the film so far, but will have to wait to maybe see more information and clips as the film's release date draws closer.
So what did you think of this first teaser trailer? Does it interest you at all or will you pass? Let us know.
"Jack the Giant Killer" hits theaters and IMAX screens in 3D June 15.
. . .
Follow Adam Poynter on Twitter at http://twitter.com/CCWGGuy.
And don't forget to "Like" It's Just Movies on Facebook at
http://www.facebook.com/itsjustmovies.