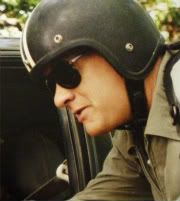 In the vein of "Up in the Air," "Larry Crowne" will strike a chord with many audience members in this tumultuous economy. In the film, Larry (Tom Hanks, who also co-wrote and directed the film) is laid off and needs to find his footing after spending years in the Navy and then at the big company that recently let him go.
He decides to go back to college and finds himself in a public speaking class taught by the dispassionate Mercedes (Julia Roberts), who has lost her love for teaching. Larry gets a crush on Mercedes, and, lucky for him, she's lost her love for her husband as well.
Although I can't predict whether it will be all hearts and flowers for Larry and Mercedes or whether Larry will figure out what to do next with his life, I bet Larry and his scooter-riding band of misfits will make Mercedes enjoy teaching again.
Starring two huge film heavyweights, the movie also features Cedric the Entertainer, Nia Vardalos (who also co-wrote the film), Bryan Cranston, Wilmer Valderrama, Tarajii P. Henson, Pam Grier and George Takei. My guess is the realistic storyline will be one moviegoers will appreciate.
"Larry Crowne" will hit theaters July 1.
. . .
Follow Amanda Koehler on Twitter at http://twitter.com/AEKoehler.
And don't forget to "Like" It's Just Movies on Facebook at
http://www.facebook.com/itsjustmovies.