Mel Gibson. Beaver puppet.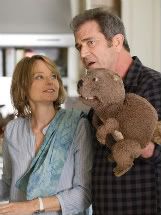 Do you really need any other information to be interested in "The Beaver?" I don't, but if you do, here's more:
Walter (Mel Gibson) is a depressed dad who recently split with his wife Meredith (Jodie Foster, who also directed the film). But once he discovers a beaver puppet in a dumpster and decides to start living life through the beaver (who has a British/Australian accent), life really gets exciting.
Obviously, his wife and eldest son Porter (Anton Yelchin) are more than a little thrown off by the puppet; Porter doesn't even want his dad back in his life (check out the first two clips to see how Walter's family reacts to his puppet).
Would this film concept have been as bizarre yet intriguing without all of Gibson's recent outrageous behavior? Probably, but his crazy actions only make it that much more delightfully funny. I'm guessing the film has its share of comedic and dramatic moments, but I'm wondering if people will be able to take it seriously.
. . .
Follow Amanda Koehler on Twitter at http://twitter.com/AEKoehler.
And don't forget to "Like" It's Just Movies on Facebook at
http://www.facebook.com/itsjustmovies.