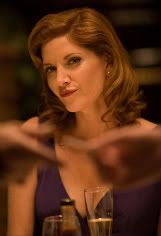 Harris Chappell (Jeffrey Tambor) is a famous director who has recently produced his share of Hollywood movie flops. In an attempt to salvage his career, he decides to return to Broadway and direct a brilliant play, one that will surely get him a Tony and the ability to go back to Hollywood with his head held high.
But things don't go as smoothly as Harris plans. Facing many roadblocks to directing the perfect play (for example, others want it to be a musical; Harris hates musicals), Harris embarks on a crazy night with his old flame Didi (Melinda McGraw) and a young actor named Spencer (Jesse Plemons).
The trailer doesn't give too much detail as to what kind of insane situations the trio get into, but I think the premise sounds interesting, and with the great Tambor at the helm, "Meeting Spencer" has promise.
Want to meet Spencer (and the rest of these cast of quirky characters)? Check the film out when it hits theaters on April 8.
. . .
Follow Amanda Koehler on Twitter at http://twitter.com/AEKoehler.
And don't forget to "Like" It's Just Movies on Facebook at
http://www.facebook.com/itsjustmovies.