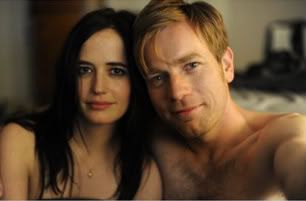 I hate when trailers don't reflect the films they are supposed to represent. Reading about and viewing the trailer for "Perfect Sense" made me feel like I was potentially dealing with two completely different movies.
The trailer focuses about 95 percent on the tumultuous relationship between epidemiologist Susan (Eva Green of "Casino Royale") and chef Michael (Ewan McGregor). And that's pretty much all you get from the trailer.
However, if you read about the movie, Susan encounters a patient who has a hysterical crying fit and then loses his sense of smell. She finds that there have been many more cases, locally and around the world, of this peculiar predicament in the last 24 hours. Susan tries to fit the pieces of the puzzle together to help these patients and to stop this strange illness.
First, I would hate to lose my sense of smell … I'm sure that would be truly terrible. But really? In any medical thriller, you need to up the ante a little, I think. Sense of smell? That's all you've got?
Second, what is this movie really about? Why are we only shown Susan and Michael's relationship in the trailer? Why is this weird illness completely ignored?
I'm not sure if I want to put the puzzle pieces together to see if this film makes, well, perfect sense, or if I'm right in being totally confused as to what this movie is trying to be.
Also starring Connie Nielsen, "Perfect Sense" was screened at Sundance on Jan. 24. No word as to when it will be hitting theaters nationwide yet.
. . .
Follow Amanda Koehler on Twitter at http://twitter.com/AEKoehler.