— by CHERRY BELL DAMASCO-FARRINGTON —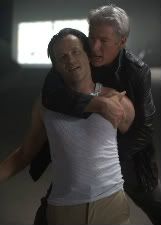 At first glance, the trailer for "The Double" gave me the "tried and true" feeling that some film plots give me. It starts off with an assassination in a very public setting and we come to find out that it was a U.S. Senator and the methods used point to a Russian assassin who is believed to be dead.
Then, we have Richard Gere as the retired CIA operative, Paul Shepherdson, who spent most of his career tracking down this specific group of Russian assassins and his report of the specific assassin is put into question and he must prove to his superiors that he in fact had killed the assassin they dubbed "Cassius."
During a briefing of the Senator's assassination, Paul is paired with rookie agent Ben Geary (Topher Grace), who has spent most of this career researching the "Cassius 7" assassins. At this point of the trailer, it started to grab my attention and intrigue more. There is action and some suspense, and we meet Ben's wife (Odette Annable) and family. We see Paul asking Ben to drop the investigation and warning Ben's wife that the "Cassius" killer doesn't care who he has to go through to get what he wants.
Then, something pretty much ruined the movie for me. I suggest you not watch the trailer or read on for that matter if you do not want to find out the rest of the plot of the movie.
We find out that Cassius is truly Paul Shepherdson himself. What just happened? Why would they do that and expose the plot twist to what could possibly be a great plot turn to the story?
The trailer ruins it for the viewers. For me, it was a great trailer up to this point. It took some time to grab my attention and once it did, it was spoiled with the exposition of the identity of the killer.
The film has a great cast which includes Martin Sheen, Stana Katic ("Castle"), Stephen Moyer ("True Blood") and Chris Marquette ("The Girl Next Door"). The film will be out in theaters Sept. 23. For the movie's sake, I hope that there's more to it than what they give us in the trailer.
. . .
Follow Cherry Bell Damasco-Farrington on Twitter at https://twitter.com/cbdamasco.
And don't forget to "Like" It's Just Movies on Facebook at
http://www.facebook.com/itsjustmovies.