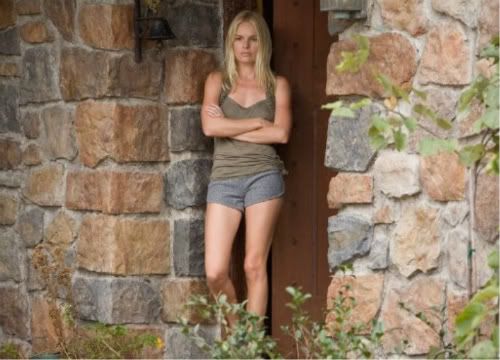 — by CHERRY BELL DAMASCO-FARRINGTON —
We've seen James Marsden and Kate Bosworth together before in another remake/attempt at a reboot of a franchise ("Superman Returns") and they have teamed up once again for the remake of a 1971 psychological thriller that starred Dustin Hoffman and Susan George, based on the novel "The Siege of Trencher's Farm" by Gordon Williams.
This 2011 attempt — written and directed by Rod Lurie — is based on the 1971 film as well as the novel itself, while taking liberties to changing a few details to appeal to the younger generation.
In the film, screenwriter David Sumner (James Marsden) and his actress wife Amy (Kate Bosworth) return to her small hometown in the Deep South after her father's death to prepare the family home for sale. Once they get there, tensions rise in their marriage and old conflicts re-emerge with the locals, including Amy's ex-boyfriend Charlie (Alexander Skarsgard), which leads to a violent confrontation.
Below, we have two clips from the film.
In this first clip, we see David Sumner leaving his wife's family home onto a fairly travelled road and he almost rear ends a truck proudly displaying the Confederate flag while looking at his phone. After a short while, he is waved on by the driver of the truck at a most inopportune moment and on the brink of causing a severe accident. As the truck passes, we see Charlie (Skarsgard) in the passenger seat staring down David.
As I've mentioned already, Skarsgard plays Amy's ex-boyfriend Charlie and in this following clip, David has left the Sunday sermon to go sit outside in his car. Charlie takes it upon himself to give David some "Redneck wisdom". Once again, we sense the tension between the two male leads.
Not only does this film have a boast-worthy cast as I have already mentioned, but also includes Dominic Purcell (Fox's "Prison Break" and "Blade: Trinity"), Laz Alonso ("Avatar"), Willa Holland ("The O.C."), James Woods and Rhys Coiro ("Entourage"). The film is set for release on Sept. 16.
. . .
Follow Cherry Bell Damasco-Farrington on Twitter at https://twitter.com/cbdamasco.
And don't forget to "Like" It's Just Movies on Facebook at
http://www.facebook.com/itsjustmovies.