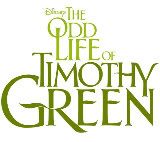 Imagine what it would be like to be a young married couple who want a family of your own and cannot have it. What would you do? Would you give up? Would you be angry or would you talk about what you kid would be like?
Cindy and Jim Green (Jennifer Garner and Joel Edgerton) are happily married and want a family. After being told there is no way for them to have children, they sit one evening and talk about everything that their child would be like. Gathering all the traits and putting them lovingly in a box and burying it in the backyard, later that night during a storm, they get a surprise. A young Timothy (Cameron "C.J." Adams) shows up and he is not all that he appears to be.
"The Odd Life of Timothy Green" shows that some surprises can teach you things about love and life that you never knew existed — let alone dreamed about.
Writer-director Peter Hedges will bring a magical story to the screen when "The Odd Life of Timothy Green" comes to theatres next August.
. . .
Follow Lynn Tackitt on Twitter at http://twitter.com/pvtgiggles.