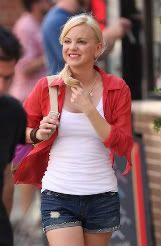 Have you ever gotten into a dating slump where you wonder if you will ever find "the one"? You tend to just gloss over the past relationships and know they didn't work out, but can't exactly remember why.
Ally Darling (Anna Faris) has come to that point where she wonders just that. Ally reads an article that says if you are with 20 or more guys you won't find a husband. On a new mission and with the help of her neighbor, Colin (Chris Evans), she begins a journey of all her past relationships to see if she can't find the one guy that she might have missed for her.
Directed by Mark Mylod, and written by Gabrielle Alan and Jennifer Crittenden, "What's Your Number" takes you down a path of remembrance of just why those ex's are just that. Alan and Crittenden are very familiar with off beat humor and looks like they deliver that humor once again.
Faris' real-life husband Chris Pratt also stars as disgusting Donald. And Aziz Ansari, Andy Samberg, Zachary Quinto, Joel McHale, Ed Begley Jr. and Thomas Lennon also appear in the movie.
"What's Your Number" opens in theaters Sept. 30.
. . .
Follow Lynn Tackitt on Twitter at http://twitter.com/pvtgiggles.