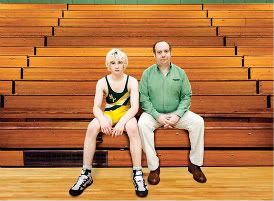 Life isn't going so swimmingly for Mike Flaherty (Paul Giamatti). His law practice is struggling, the wrestling team he coaches isn't doing so well and he is exhibiting physical stress symptoms.
To add to his list, he becomes the legal guardian of an elderly client, and one day the client's grandson Kyle (Alex Shaffer) shows up. He ran away from home and his druggie mother (Melanie Lynskey). Mike and his wife Jackie (Amy Ryan) take Kyle in, and Mike soon realizes Kyle is a wrestling star. Things are starting to look up for both Mike and Kyle when Kyle's mom, back from rehab, comes to claim her son. Bobby Cannavale and Jeffrey Tambor also star in "Win Win."
Will "Win Win" also be a win for audiences? Find out when it hits theaters on March 18.
. . .
Follow Amanda Koehler on Twitter at http://twitter.com/AEKoehler.