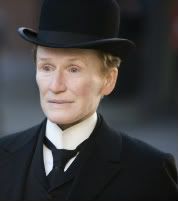 "Albert Nobbs" is a story that takes place in the 19th century where Albert Nobbs (Glenn Close) works as a butler in a Morrison's Hotel. Intensely shy, he does his job and never draws attention to himself. The secret is that Albert isn't a man at all, but a woman who has been masquerading as a man for most of her life after a traumatic experience in her teens. The fact is that in a male-dominated Irish society she could do better for herself as a man then she ever could as a woman, so she became Albert and has been living as such for years.
Being content with herself, always alone and constantly working, she realizes that there is more to life when a painter named Hubert Page (Janet McTeer) shows up and uncovers Albert's secret. Hubert reveals that he is also a woman, masquerading as a man to keep a decent high-paying job. Albert learns that Hubert is married to a woman who knows and keeps her secret and this ignites a spark of hope that she could one day possibly live a normal life and find someone to accept her and keep her secret as well. A young house maid named Helen, who has always been kind to Albert, catches her eye but there is competition for her affection when a new handyman named Joe (Aaron Johnson) gets hired on to work at the hotel.
As Albert's dream begin to unfurl, she imagines herself married to Helen and taking her life savings and becoming a shop owner herself. Complications arise when Helen falls for Joe but is still "stepping out" with Albert at the same time. Letting herself feel fondness for Helen and opening up her heart to dream, Albert begins to start transforming from a quiet timid human being to an actual member of society. The question still is will Helen be willing to marry someone she barely knows and how could Albert ever reveal the truth to her?
When men portray women onscreen or onstage, the effort is often played for laughs, but when women become men for a role, it usually ends in awards nomination. Such is the case with "Albert Nobbs," Glenn Close was nominated for a Golden Globe and is nominated for an Academy Award. Close is nearly unrecognizable as the title character and her performance is so sad and terribly moving — it's one of the most thought-provoking roles I have ever seen her in.
Mixed with the boisterous and loud performance by McTeer as Hubert, you see two very different sides of the spectrum, both decided to switch genders for different reasons but the end result is the same, having a higher place in society. While one thrives, the other barely lives and the way they choose to live their lives will lead to two very different outcomes by the end of the film. Mia Wasikowska and Aaron Johnson make an odd pair in the film as they fall in love, but have very different outlooks on life, I though they both did well with their roles and that they were great additions to the cast.
The movie does make you think about how we take little things for granted like being happy, having the freedom to do and act as we choose and the fact most of us are free to love and be loved in return. This movie has a lot of darkness and sadness to its story, but at the same time you are rooting for Albert to find some semblance of happiness in her life, whether it is through friendship or love.
It is not a film for everyone as it doesn't fit the traditional mainstream genre type of movie, but film lovers and indie buffs will enjoy the remarkable performances by Glenn Close, Mia Wasikowska and Janet McTeer. There are heart-breaking moments as well as joyful ones that showcase major strengths by these actresses. The supporting cast is pretty great, but we don't see as much of them as I would have liked. There is Brendan Gleeson, Pauline Collins, Jonathan Rhys Meyers, Maria Doyle Kennedy and Kenneth Collard.
Needless to say, Glenn Close has truly earned her nomination for Best Actress in this role and she was right to try and get this film made for so many years, I have been surprised once again by her talents and am eagerly awaiting what role she might play next.
"Albert Nobbs" — rated R for some sexuality and brief nudity – is in theaters now.
. . .
"Like" It's Just Movies on Facebook at http://www.facebook.com/itsjustmovies.