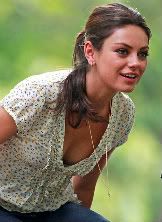 The latest phenomena I'm seeing in cinema is that chick flicks can now be raunchy and funny and everything that they weren't allowed to be in the past.
Let's face it, females are just as prone to talking about sex as their male counterparts, and what a relief that Hollywood is starting to portray the realities of our society. I don't think I need to mention "Bridesmaids" for you guys to get my drift, do I? "Friends With Benefits" is most definitely a romantic comedy, but it's not your usual cup o' tea.
The story starts when Dylan (Justin Timberlake) moves to the Big Apple for a job, and Jamie (Mila Kunis) becomes his friend and tour guide. Their friendship blossoms easily, but when they decide to cut out all the relationship drama and simply add sex to the equation, things change whether they want it to or not. I know what you're thinking, sounds like a carbon copy of "No Strings Attached," which everybody is comparing the film to, not only because the premise is the same but because one of the stars of "No Strings Attached" was Natalie Portman, who starred in "Black Swan" with Kunis. Let me just say upfront and bluntly, "Friends With Benefits" is not as cookie cutter as "No Strings Attached" was and to be quite frank, I enjoyed "Friends With Benefits" more.
Timberlake has gained some hearty praise for his comedic abilities thanks in a large part to his appearances on "Saturday Night Live," and this film displayed said abilities wonderfully. And Kunis ("Forgetting Sarah Marshall") really turns on the charm for this role. Together, the chemistry is spot on, the comedic timing is perfection, and the heart of the story really burns through. Above all, the movie is funny. The writing was very witty and well thought out.
The movie takes place in two cities, New York City and Los Angeles, and I just love both when utilized in a movie without the stereotypical nonsense. Although one scene did make a lot of cheese about the Hollywood sign, it was so funny I didn't mind. The film is pretty sexually explicit, but not in a "Love and Other Drugs" kind of way, it's in a very humorously smart way. I haven't quite seen sex portrayed in such a manner before. It's authentic in the speech with those we are intimate with, just not in the dramatic sense.
The supporting cast and cameos in this film are something to really be enjoyed as well. Patricia Clarkson plays Lorna, Jamie's mom and she is hilarious. Woody Harrelson was also hysterical in his role of Tommy, the flamboyant co-worker of Dylan's. And we have a blast from the past in Jenna Elfman, who plays Annie, Dylan's sister who is pushing him to see what's in front of him. No seriously, there's actually some heart in the story which I really appreciate. Hats off to Richard Jenkins, who plays Annie and Dylan's father; his execution was brilliant. Andy Samberg, who I will never forgive for "Hot Rod," has a very funny cameo, and I really liked the fact that him and Justin Timberlake didn't share any scenes together — that would have been too predictable considering their "SNL" history. Masi Oka of "Heroes" comes out of left field for a cameo. My favorite celebrity appearance, however, was found in snowboarding champion Shaun White. His stuff was coo-coo bananas funny!
It's pretty hard to avoid the predictability and stereotypes of romantic comedies, but I think "Friends With Benefits" did a very good job. Sure it's predictable, but it's still funny and it breaks through a lot of the "norms" of the genre. One thing that I always pay attention to with these types of movies is the soundtrack, and I loved the music in the film, especially the use of Semisonic's "Closing Time."
I highly recommend seeing this movie (without the kids). Although it's still being marketed without an official rating, I am pretty certain it will be rated R for language and sexual content. The film hits theaters July 22. On the Jess-O-Meter, "Friends With Benefits" gets a "Do you know who you want to take you home?"
. . .
Follow Jessika Owens on Twitter at http://twitter.com/jessika.
And don't forget to "Like" It's Just Movies on Facebook at
http://www.facebook.com/itsjustmovies.