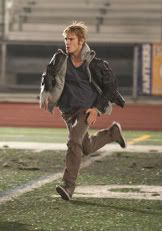 Book-to-movie adaptations are quite common in Hollywood, we have seen it time and time again. And sometimes, a movie is adapted from a book that hasn't even been released yet. But if the subject matter is engaging enough, a studio can see the potential for a future film.
This is the case with "I Am Number Four," where DreamWorks Pictures bought the film rights to a novel by James Frey and Jobie Hughes, the first in a proposed series of six novels. The book "I Am Number Four" was released in August 2010 and has spent over six weeks on the New York Times Best Seller List. So the book has been proven to be a hit, now let's see if director D.J. Caruso ("Disturbia," "Eagle Eye") can get the same reaction out of the film.
Nine infant aliens flee their home planet Lorien when an enemy force, the Mogadorians, invade and destroy their world. Each of the nine children is assigned a number and a guardian to keep them alive. The Mogadorians follow them to earth and since they are the only force that could stop them from conquering this planet, they are taking them out one at a time.
Shortly after we meet John Smith (Alex Pettyfer), a young, athletic teenager, he and his guardian Henri (Timothy Olyphant) are forced to move yet again when the death of the third Lorien causes a chain reaction that uncovers his secret. Now in Paradise, Ohio, where Henri has some business, John enrolls in a new high school. He meets Sarah (Dianna Agron), a peculiar but beautiful girl who has all of the makings of a teen prom queen but is more of an outsider.
John is infatuated and intrigued by her, and wants to get to know her better, but knows that his life will take him away from this place very soon. John also befriends a nerdy boy from school, Sam (Callan McAuliffe), and they bond over their mutual disdain of a school bully (Jake Abel). When the time comes to go on the run again, John refuses to leave and decides it's time to stand and fight back. Will the help in the form of a beautiful stranger (Teresa Palmer) be enough to defeat this evil unrelenting force, and what connection does his friend Sam have to his home world?
First off, I just want to say that I was really impressed with the movie overall. I heard the director say that from the day he got the script to the date it was released in theaters, they only had nine months to cast, do all of the design work, make the movie, edit it and do the special effects. That is an amazing feat for any movie, especially one with sci-fi elements and special effects work. I liked the design and look of this film; it felt real enough while allowing you to believe in these extraterrestrial forces. They made the Mogadorians look almost human — but upon closer inspection they are clearly not. They definitely give the impression of an evil overwhelming force that you wouldn't want to mess with.
The characters are unique in the way they are shown, but they are put in an overused scenario. I really liked and rooted for John and Sarah to become close and be together, but the whole jock who is obsessed with Sarah and therefore has to bully John is overused in movies dealing with teens today. You see the reason for the John and Sarah's connection and why they are drawn to each other. John just longs for a home, and some form of normalcy in his life. Sarah is drawn to John because he is different and isn't trying to be in the "hip" crowd. I also enjoyed the geeky friend, Sam, and John's protector, Henri, and I wish we got to see them more. They both delivered great punch-lines and jokes and really brought a lot of humor to the film. Timothy Olyphant has some great dry humor and he really makes use of it in the movie.
The score is fast paced and energetic, definitely the thing to give the film its boost in adrenaline, especially during some of the chase scenes. There are a few rock anthems in this movie, specifically the song by Adele called "Rolling in the Deep" that is the introduction song of Number Six (I have embedded the music video for the song below). It really gets you rocking and is one that I want on my iPod. Since Number Six is a warrior who is akin to a ninja/female terminator it's befitting to her character and really helps pick up the energy and momentum of the film. Overall, I am a fan of the score and wouldn't mind having this soundtrack blasting in my car.
The reason this movie works is that it's a film with basic subjects that we can all relate to: acceptance, love, growing up and responsibility. At its core, it's a dramatic love story and that's why it will resonate with a lot of people, especially those in their mid- to late-teens. They will see aspects of themselves in each of the characters. Some thought that the middle was too slow, but I think that it was necessary for you to get to know and care about the characters so that when all hell breaks loose, you have a real connection to them. I was greatly impressed by the action in the movie and how they designed each of the Lorien's powers, and how they manifested and combined when they were in close proximity to one another.
The film succeeds in showing the relationship of the two leads and both Alex Pettyfer and Dianna Agron are both great new stars. Although he is new to the big screen, Pettyfer already has a second movie called "Beastly" coming out next month alongside Vanessa Hudgens. Dianna Agron has had small cameos in "Burlesque" and "The Romantics," while also starring on the hit FOX show "Glee." Each shows great potential and I can't wait to see how their careers take off.
"I Am Number Four" is rated PG-13 for intense sequences of violence and action, and for language. It hits your local theater and IMAX screens Feb. 18.
. . .
Follow Adam Poynter on Twitter at http://twitter.com/CCWGGuy.
And don't forget to "Like" It's Just Movies on Facebook at
http://www.facebook.com/itsjustmovies.