Shortly after I wrote about the clips for the movie "Gun" starring 50 Cent and Val Kilmer, I bump into yet another upcoming collaboration by both stars titled "Blood Out." Actually, after researching the plot and watching the trailer (below), I find I am more excited for "Blood Out."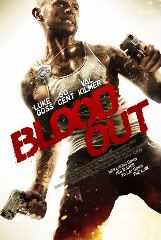 Allow me to explain why …
First off, the plot. This is a commonly-used stratagem, we see it in many movies and even TV shows. But, why is it so popular and never-ending? It is because we all know what we are willing to do for our family. Here, check out the official description: When big-city detectives refuse to further investigate his kid brother's gang related murder, small town Sheriff Michael Spencer (Luke Goss) drops the badge and goes undercover to find his brother's killer and avenge his death. But will Michael be tempted by the gangster lifestyle, including sexy assassin Anya (AnnaLynne McCord)? Or will he avenge his brother's death and ultimately find out what it means to be 'Blood Out'?
It's the Darth Vader story, it's "Face-Off," but we'll never see the end of it. People will going in over their heads for revenge and then be seduced by the darkness of evil. Now, don't think I am saying this movie can be compared to those aforementioned, because I know it won't, but my point is — this plot can still continue to entertain.
Now, this brings me to the next point of interest — the actors. Oh, by the way, notice how Val Kilmer and 50 Cent were not even mentioned in the"official description? That is because the hero of this movie is the starting-to-become-king-of-straight-to-video-movies Luke Goss. He was perfectly cold and blatant in his role in "Death Race 2," and I felt he played his part as well as possible. He can definitely be movie-hero material in my opinion.
In the poster, Val Kilmer's name appears third in the credits. Does this mean he is the villain or window dressing? Well, he does seem well represented in the trailer, so hopefully he will play a big role or even the big baddie. There is no doubt in my mind; despite the direction his career has taken, Val Kilmer can be an amazing actor. I was just recently watching "Kiss Kiss, Bang Bang," and boy was he terrific there. He just feeds off the energy of the stars around him. I love this guy.
The next actor in my radar for this movie is Vinnie Jones. I have always liked him in anything and everything he does. I feel he is super-talented at doing exactly what he does; play the freaky villain, or the freaky, unexpected hero. I look forward to see him kick butt in this film.
Oh, and finally AnnaLynne McCord. She is actually also in "Gun." I have seen her in passing ("Transporter 2") before, but do not really know her, or her acting skills. What I do know is, after watching the trailer for this movie, I will be looking forward to her role in "Blood Out." She is breathtakingly beautiful and perhaps, as I suspect, the lure the dark side (the gangster lifestyle described in the OD) will use to tighten their grip around Michael.
Check out the trailer below, and let me know if you agree with my points.
"Blood Out" is directed by Jason Hewitt and will be released April 26 on Blu-ray and DVD.
. . .
Follow Josue Sanchez on Twitter at http://twitter.com/Josue_can.
And don't forget to "Like" It's Just Movies on Facebook at
http://www.facebook.com/itsjustmovies.