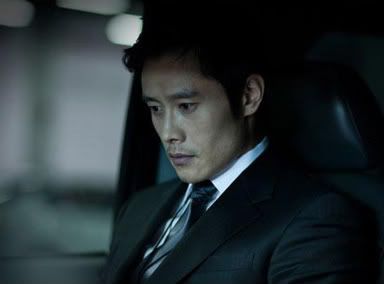 Sadistic is the first word that springs to mind when describing Kim Jee-woon's "I Saw The Devil." A revenge film like no other, the unrelenting violence makes prior retribution movies — such as "Taken" and "Inglourious Basterds" — seem like kiddy fare.
In stark contrast from the majority of the picture, "Devil" begins rather peaceful, on a quiet drive along a desolate highway. Behind the wheel is Ju-yeon (Oh San-ha). After a tire goes flat, while waiting for a tow truck to arrive, she speaks with fiancé Soo-hyun Kim (Lee Byung-hun), a federal agent who appears to be in the middle of an investigation.
At the behest of her fiancé, Ju-yeon refuses help from a stranger. However, Kyung-chul (Choi Min-sik) doesn't leave. Instead, he breaks into her car, knocks her unconscious and chops her up into pieces. Makes you feel warm and fuzzy, right? Now, I'm definitely not a fan of such explicit violence. In fact, there were moments where I covered my eyes during certain scenes. Nevertheless, upon reflection, a few days after viewing it, I believe the brutality was necessary to convey Kyung-chul's diabolical nature. He is the devil.
Distraught from the loss of his fiancé, Kim is granted time off to mourn. But instead of doing so, he tracks down Ju-yeon's killer and acts out his revenge in a vicious game of cat and mouse. During the film's duration, we watch Soo-hyun torture Kyung-chul and set him free repeatedly and by so doing, Kim transforms from a respectable man into what he loathes.
Even with all the bloodshed, I was surprised at how enthralled I was with "I Saw the Devil." Normally, horror films of this nature are devoid of emotion, but not in this instance. Director Kim Jee-woon ("The Good, The Bad, The Weird") does a fantastic job incorporating sentiment and terror.
Of course, the film would be remiss without its excellent cast. Lee Byung-hun was given the daunting task of conveying despair and rage with little emotion. Done subtly through the eyes, he succesfully draws you into his pain and guilt. You can't help but sympathize for Soon-hyun Kim and it's rather unsettling to watch him deteriorate. Yet, for the better part of the film, Lee is understandably overshadowed by Choi Min-sik's emotionally-disturbing portrayal of serial killer, Kyung-chul. But not to worry, Lee gives an absolutely heart-breaking performance that will stun by the film's end.
Expecting nothing less from Kim Jee-woon, a master at the action genre, the fight sequences were very well choreographed and the haunting music by Mowg is often as jarring as the aggression that takes place on screen. Needless to say, "I Saw the Devil" is not for the faint at heart. As I've mentioned before, the film is brutal. But it is definitely worth experiencing for the message alone.
Revenge is not always sweet. It's deadly and, in Soo-hyn's case, it corrupts.
Go see "I Saw the Devil" when it opens March 4.
. . .
Follow Sherice Antoinette on Twitter at http://twitter.com/ShericesPieces.
And don't forget to "Like" It's Just Movies on Facebook at
http://www.facebook.com/itsjustmovies.