Our favorite panda is back and ready to kick some skadoosh in "Kung Fu Panda 2." Po (Jack Black) has been living the high life ever since he was chosen to be the Dragon Warrior.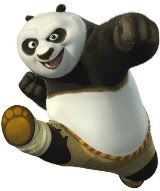 While continuing his training with Master Shifu (Dustin Hoffman), Po has been defending the Valley of Peace with the help of his friends Tigress (Angelina Jolie), Monkey (Jackie Chan), Crane (David Cross), Viper (Lucy Liu) and Mantis (Seth Rogen). Po has been trying to find a balance with his old life working in the soup restaurant and his time he spends off on missions to protect the innocent. It is especially hard when his missions of greatness take him constantly away from his father Mr. Ping (James Hong).
When an albino peacock prince named Lord Shen (Gary Oldman) learns from a Soothsayer (Michelle Yeoh) that it is his destiny to fall to an unknown warrior of black and white, he overthrows his parents and goes out seeking to destroy anyone that can get in his way. When Master Shifu learns of Lord Shen's tyranny, he sends out Po and his Furious Five to defend the innocent and stop Shen and his army of wolves. It is discovered that Shen has made a weapon that is capable of defeating even the highest level of Kung Fu Masters and Po learns that sheer force will not be able to stop him. He must achieve true "inner peace" to gain the power and wisdom to stop the unstoppable, and along the way he will learn about his origins and Lord Shen's diabolical connection to his past.
"Kung Fu Panda 2" brings back everything you loved from the first film and more. With bigger environments, action sequences, better graphics and the addition of eye-popping 3D, it is an immediate hit and, in my opinion, the front-runner to be the biggest animated saga since the "Toy Story" or "Shrek" films.
We jump right back into the story shortly after we left off and the same comedic dynamic is still there. The movie adds a few new Kung Fu Masters: Master Croc (Jean-Claude Van Damme); Master Oxen (Dennis Haysbert); and Master Thundering Rhino (Victor Garber). They are held in the highest level of regard to Po, so it is that much more intimidating when he learns Shen has defeated them with his new ultimate weapon.
The voice actors are just as amazing in this film as the first. Jack Black's wacky and endearing Po shows growth in strength and mentality but still keeps his child-like perspective of the world. Angelina Jolie's Tigress opens her heart a bit and is no longer just the strong, calculated warrior. Jackie Chan, Seth Rogen and Lucy Liu's characters seem to be more in supporting roles this movie, but all have stand-out lines or scenes that showcase their talents and comedic timing.
This visuals are spectacular and the 3D used is truly immersive and worth the extra surcharge. You see and feel the moments when the characters literally leap off the screen and fly towards your face. There are a few moments when they go for the gimmicky "throw stuff at the audience," but overall it is used to enhance those great moments in the film. The detail in the animation looks similar to the first film, just more refined and realistic. One part of the film I loved was how they broke it up into three different types of animation to split up the story. They used old Chinese paper drawings to tell the story of Lord Shen, then we get a subdued look into past events in a dreamlike flashback in which you will see Po look his cutest as a baby panda and, lastly, the amazing C.G.I. that you recognize from the first film keeps us in the current time line.
I don't want to go much more into the story, but just like with most animated features there is a moral to be learned from this funny and action-packed adventure and they showcase themes of time, family, technology and inner peace that will leave you wanting to see more and hoping the film won't end just yet.
DreamWorks animation has created a truly unique, funny and innovative movie that will become a family favorite for years to come. So if you have kids, are fans of the first film, or just want to see the best animated feature of the year so far, get out and go see "Kung Fu Panda 2" when it hits theaters May 26.
"Kung Fu Panda 2" is rated PG for sequence of martial arts action and mild violence.
. . .
Follow Adam Poynter on Twitter at http://twitter.com/CCWGGuy.
And don't forget to "Like" It's Just Movies on Facebook at
http://www.facebook.com/itsjustmovies.