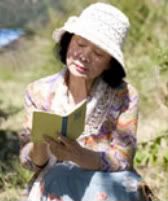 "Poetry" — a film examining crime and redemption — begins with a screen filled with rushing river water, a symbol of life, source, and beginning. In this movie's particular case, it is also the repository for the body of a young girl.
Lee Chang-dong, South Korean filmmaker, writer and prior Cultural Minister, has created a virtual poem within a film. He has artfully and delicately ventured into the conscience of Mija, a lovely grandmother expressively played by award-winning Yun Jung-hee. She is the caretaker for her grandson, Wook (Lee David), and the hired maid for a man (brilliantly played by Kim Hi-ra) who is physically debilitated after a stroke. She is also suffering from the earliest onset of Alzheimer's Disease.
After her diagnosis, Mija whimsically decides to take a poetry class. The teacher expounds enthusiastically about the art of writing poetry and how it forces the writer to feel and to write the truth, even though it can sometimes be painful.
Mija's life appears carefree despite her impending medical demise. She dotes on her grandson and takes care of the invalid with a spring in her step and a happy lightheartedness.
Into this set she is confronted by five fathers from her son's school with a hideous revelation. Her grandson had been part of a group of boys who had been raping a young schoolgirl on a regular basis over the last six months. The young girl, the body floating down the river in the film's opening, had committed suicide by jumping off a bridge.
The fathers of the boys ask Mija to join them in a payment scheme to the parents to keep the news out of the papers. They tell her that the story of their sons' involvement in this awful crime would ruin their sons' futures. They don't want a scandal.
Mija watches her grandson, trying to see any expression of regret, guilt or sadness. The grandson is aloof, distant, rude and unresponsive. He has no reaction to a picture of the dead girl she leaves propped up at his place on the kitchen table.
This parable on crime and punishment, on learning the deepest truth and figuring out what to do about it, is beautifully mastered with sensitivity and delicacy. Mija's role, played with delicate charm and realism by Jung-hee, fills the screen with a modest power and gravitas.
Chang-dong has created a masterpiece. In the press interview he explained, "One of my thoughts on poetry is that it sings on behalf of someone's emotions and thoughts. If someone were to ask me why I make films, I could answer by saying, 'I am telling your story on your behalf."
"Poetry" ends with the same view of the river that was in the opening. But now there is a deeper insight, a reminder that water is also the classic symbol, as in baptism, of purification — the cleansing of original sin.
Poetry resonates when, like flowing water, it reflects a truth and connects us to our essential selves, inspiring us to face reality and be true to our innermost beliefs. Chang-dong captures this moment in a magnificent artistic expression.
POETRY
a film by Lee Chang-dong
opens at the Royal in West LA on May 6
Film Awards
Best Picture, Best Screenplay, Best Actress and Best Supporting Actor, South Korean Daejong Film Awards
Screenplay, Cannes International Film Festival
Official Selection, Telluride Film Festival
Official Selection, Toronto International Film Festival
Official Selection, New York Film Festival
Film Credits
Written and Directed: Lee Chang-dong
Producer: Lee Joon-dong
Executive Producers: Youm Tae-soon & Choi Seong-min
Cinematography by Kim Hyung-seok
Editing by Kim Hyun
Cast: Yun Jung-hee, Lee David, Ahn Nae-sang and Kim Hi-ra
Language: Korean with English subtitles
Country: South Korea
Runtime: 139 minutes
. . .
Follow Bev Questad on Twitter at http://twitter.com/questad.
And don't forget to "Like" It's Just Movies on Facebook at
http://www.facebook.com/itsjustmovies.