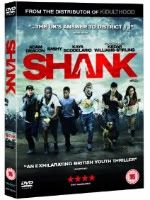 For all of the fun there is to be had by taking shots at bad movies, there are some things that just disappoint me. One of them is having to take shots at movies that would be really good, were it not for one or two elements not done as well as I would have liked. Another is taking shots at foreign — at least foreign to me and most of Hollywood — actors. The sounds of dub, dubstep and jungle serve as the backdrop to London 2015 in Mohamed Ali's "Shank" — which falls into both of those categories.
After civilization breaks down in 2015 London, the kids have gone feral and have taken to the streets, forming street gangs to secure food — "munchies" as they call it — and protecting their turf by shanking their rivals. The movie focuses on the members of one such gang, the Paper Chasers, as they go about their daily business. The movie opens on Junior (Kedar Williams-Stirling) running away from rival gang The Souljahs. After a lengthy (and well shot) chase, he gets trapped in an ambush. Just when Tugz, the leader of the Souljahs, is about to shank Junior, Rager (Ashley "Bashy" Thomas), his older brother and leader of the Chasers, jumps in and buys Junior enough time to escape at the cost of his own life. Junior, devastated by the loss and suddenly accelerated into leading the Chasers, begins building alliances to engage the Souljahs in one last fight for territory, and more importantly, revenge
The Good: The cinematography. Based on cinematography alone, this is my fifth-favorite movie of all time after (in descending order): "Boondock Saints"; "Snatch"; "Pulp Fiction"; and "Run Lola Run." It seemed more "futuristic," selling a new take on the concept of Orwellian London pretty well. Deliberately erratic ump cuts and delay effects work in perfect sync with the music to make the scenes grittier, more harsh, yet not evoking images of American style ghettos. The opening chase scene, which is one of the best scenes in the movie period, is likely what you would see if Tom Twyker ever decided to give us a sequel to "Run Lola Run."
The music. Speaking of the music, the best word I can describe it as is grimy, hence the genre of music to which a lot of it belongs being called grime. If I had a choice of any under-used, under-appreciated style of music that should be featured in American movies, it would almost certainly either be jungle, garage (pronounced gair-edge, not to be confused with Detroit based garage, pronounced normally to Americans), dub or grime, all of which make an appearance at some point in the movie. The music conveyed to me everything that the acting and.or plot didn't.
The Bad: The acting in this movie wasn't the best, even for a movie of its genre, mostly because the cast was made up of kids and music stars. Very generally speaking, in recent years, rap and/or hip-hop musicians don't star in the best movies, let alone get Oscar nods — excluding "Dreamgirls" and "Precious" — and it's worth nothing that technically those musicians with the nods were pop stars and former actors. Having seen the actors involved in this movie for the first time, and to use a football phrase, I'd say that Kaya Scodelario, who plays Tash, the leader of one of the gangs in Junior's alliance, is the one most likely to play on Sundays. Kedar Williams-Stirling could get there as well, but he will need stronger roles before that happens. Incidentally, he also needs to work on his diction. I can understand London street pretty well, but it took me nearly 20 minutes to be able to (somewhat) clearly understand him.
The Ugly: The plot. I've seen many gang versions of the "My name is Inigo Montoya. You killed my father (mother, brother, sister, cousin, ex-roommate) prepare to die!" and aside from Futuro London, "Shank" doesn't stand out to me plot-wise. The concept of Futuro London was, in fact, pretty good; it was just that it failed to translate from idea to script, and then from script to acting, and more so I believe the latter than the former. At least dress it up a little, shake things up. Realizing very few things are original anymore, one has to be able to go out on a limb to keep things interesting.
Final Analysis: For his directorial debut, Mohamed Ali definitely aimed high. While he didn't nail it right on, he certainly didn't fall short of the mark. All of the emotion and action of future street gang life that he wanted to convey came through and the cinematography was definitely better than I had expected. Should this movie ever see the light of day in American theaters, it would be good for an early matinee, or as is, a decent Saturday night when you want to stay in and get a little loaded. If Mo Ali makes another film, I'd give it a whirl. Like Scodelario and Williams-Stirling, it seems Ali has a good shot to play on Sundays as well.
. . .
Follow Chris Hyatt on Twitter at http://twitter.com/hyattch.