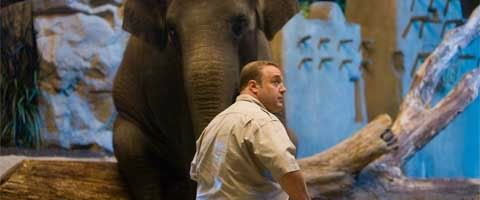 Griffin Keyes (Kevin James) is devastated when his girlfriend Stephanie (Leslie Bibb) turns down his marriage proposal and then dumps him because all he has is a modest job as a zookeeper. Years pass and Griffin never moves on. He throws himself wholeheartedly into his job and really comes to love the animals at his zoo. Part of his enjoyment comes from fellow zoo vet and bird enthusiast named Kate (Rosario Dawson), but when Stephanie turns up at his brother Dave's engagement party, all of his feelings for her and of his inadequacies come flooding back.
Griffin seriously considers quitting his job at the zoo for something flashier in order to get Stephanie back. The animals at the zoo decide they can't let this happen and cook up a plan to help him win her back, but things don't go as planned and they realize they may have to break the rules about talking to humans if they are to help him succeed.
Taking the advice of his furry friends, Griffin goes on a mission to learn each animal's traits that help them attract a female. Now, he must tap into his inner animal in order to become the alpha male and win Stephanie back before it is too late. Will his pursuit of Stephanie lead him to love, or could it have been nearer to him than he realized?
"The Zookeeper" is directed by Adam Sandler alumni Frank Coraci ("Click," "The Wedding Singer") and also co-written by James. Going in, you have to know this is a Happy Madison film, so it is bound to carry all of the typical Adam Sandler humor and tone. Full of physical comedy, potty-humor and all of the things you have come to associate with child-friendly films, the script is definitely aimed at kids while the talent that voices the animals is strictly for the adults. Playing the feuding lion and lioness are Sylvester Stallone and Cher, the neurotic elephant is voiced by Judd Apatow, a chatty monkey is voiced by Adam Sandler, the sassy giraffe is Maya Rudolph and two opinionated grizzly bears are voiced by Jon Favreau and Faizon Love. Bernie the depressed Gorilla is voiced by the legendary Nick Nolte and there are also smaller performance of animals by Don Rickles, Bas Rutten and Jim Breuer.
The main story focuses on the relationship between Griffin and Stephanie, but the only problem is that Stephanie is such a self-centered and manipulative character that I never wanted Griffin to get back with her, so I never rooted for all of his antics to work. The chemistry between Kevin James and Rosario Dawson, on the other hand, was much better. They were both so relatable and seemed to fit together; a scene where they dance together at Griffin's brother's wedding was particularly memorable.
Bernie the Gorilla was the only animatronic animal in the film and I think this was due to the lack of ability to train a real gorilla to do all that they needed him to do. I was really feeling the relationship between Bernie and Griffin — until he takes him on a road trip to a T.G.I. Friday's for dinner and a game of pool, which is where they lost my liking that relationship. The rest of the animals did their parts and were trained well enough to make the performances believable.
Overall, the film's humor and jokes were aimed for small children and although I enjoyed a few memorable moments, the movie was a little too silly and Kevin James' talent seems to be lost in all of it. James, as usual, is funny and charming, but I feel like maybe he was asked to abandon all sense of pride to do some of the stunts that he has to do in the film. This movie is definite filler for the summer months when there are so few safe options that parents can take their small children to see and because of that it should do OK in ticket sales, but I can't imagine many parents will be excited to see it more than once, even though children may request a repeat viewing.
One other positive side to the film was the fun and uplifting choice for music. There are a few great songs in there and just as you expect there is a musical number during the credits in which they utilize all of the voice actors, especially Cher, in serenading the audience as you leave the theater.
At first glance, "Zookeeper' might seem like a modern combination of "Hitch" and "Dr. Dolittle," but don't be fooled. It is just a light-hearted and fun movie for the little ones to enjoy looking at the animals and laughing at the massive amounts of bathroom humor. There are many subplots that this film starts — including Stephanie's most recent ex-boyfriend (Joe Rogan) entering the picture and complicating things between Griffin and her as well as others — but with a movie like this, don't expect them to ever fully be realized. My verdict is that if you have little children you will probably be asked to take them, but for the comedy loving adults out there find a film that is more suited to your adult comedic sensibilities.
"Zookeeper" is in theaters now, is rated PG and also stars Ken Jeong, Donnie Wahlberg and Brandon Keener.
. . .
Follow Adam Poynter on Twitter at http://twitter.com/CCWGGuy.
And don't forget to "Like" It's Just Movies on Facebook at
http://www.facebook.com/itsjustmovies.